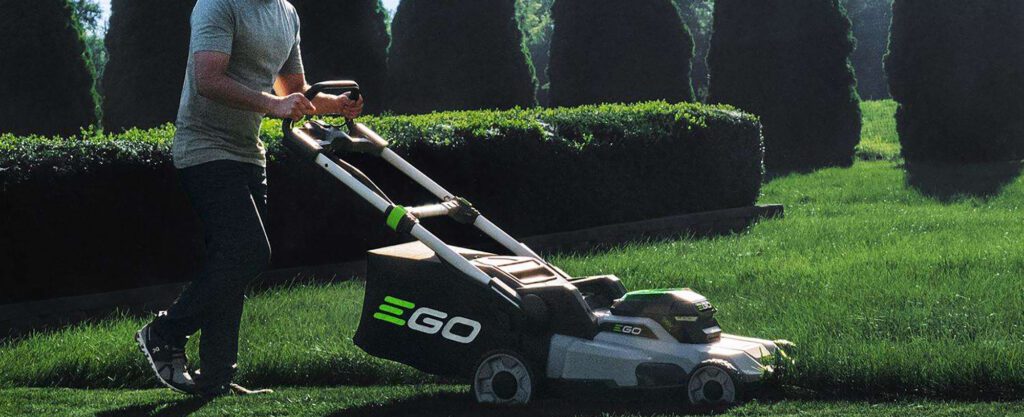 Lawn care, for many, is a labor of love. It's an expression of pride in our homes and a testament to our attention to detail. As a longtime homeowner in Fallon, Nevada, I've tried my fair share of lawn mowers. Recently, I've had the pleasure of using the EGO Power+ LM2114 21 in. 56 V Electric Lawn Mower Kit from Louie's Ace Home Center. This game-changing tool has significantly elevated my lawn care experience, and I believe fellow homeowners in the Fallon and Dayton areas will find it equally transformative.
Experiencing Power Beyond Belief
The promise of 'Power Beyond Belief' is not an overstatement. The EGO Power+ 21in Mower delivers a whopping 6.0 foot-pounds of torque power. This feature immediately set it apart from many gas-powered mowers I've used in the past. Despite its immense power, it operates with an admirable quietness that keeps my early morning lawn care sessions from waking up the entire neighborhood. Add to that the absence of gasoline fumes, and the EGO Power+ quickly proves itself as a top contender for most eco-friendly lawn care tool.
The high-efficiency brushless motor delivers impressive performance - long runtimes, low vibration, and life-long durability. With the 56V 6.0Ah ARC Lithium battery, you can expect an impressive 55 minutes of uninterrupted mowing from a single charge.
Achieving Unparalleled Precision and Versatility
The EGO Power+ LM2114 is much more than a powerful tool. It's also a precision instrument designed to give your lawn the love and care it deserves. The advanced Gator Blade creates clean, precise cuts, enhancing your lawn's health and appearance.
The three-in-one functionality offers the flexibility that homeowners crave. You can mulch, side discharge, or bag your grass clippings depending on your lawn care strategy. The two-bushel grass collection bag is easy to access and simplifies clean-up.
Adjusting the cutting height is a breeze with the 7-position feature. You can achieve the perfect grass height, anywhere between 1.25 to 4 inches. Whether you prefer a lush, high lawn or a low, clean-cut look, this mower has got you covered.
Embracing Ultimate Convenience
There's a clear emphasis on convenience in every aspect of the EGO Power+ LM2114's design. Starting the mower requires a simple push of a button, making tricky pull cords a thing of the past. The inclusion of bright LED lights is a thoughtful addition, offering clear visibility for those pre-dawn or twilight mowing sessions.
The adjustable handle height ensures a comfortable mowing experience for everyone, regardless of their height. And after the job is done, the mower folds flat for easy, compact storage.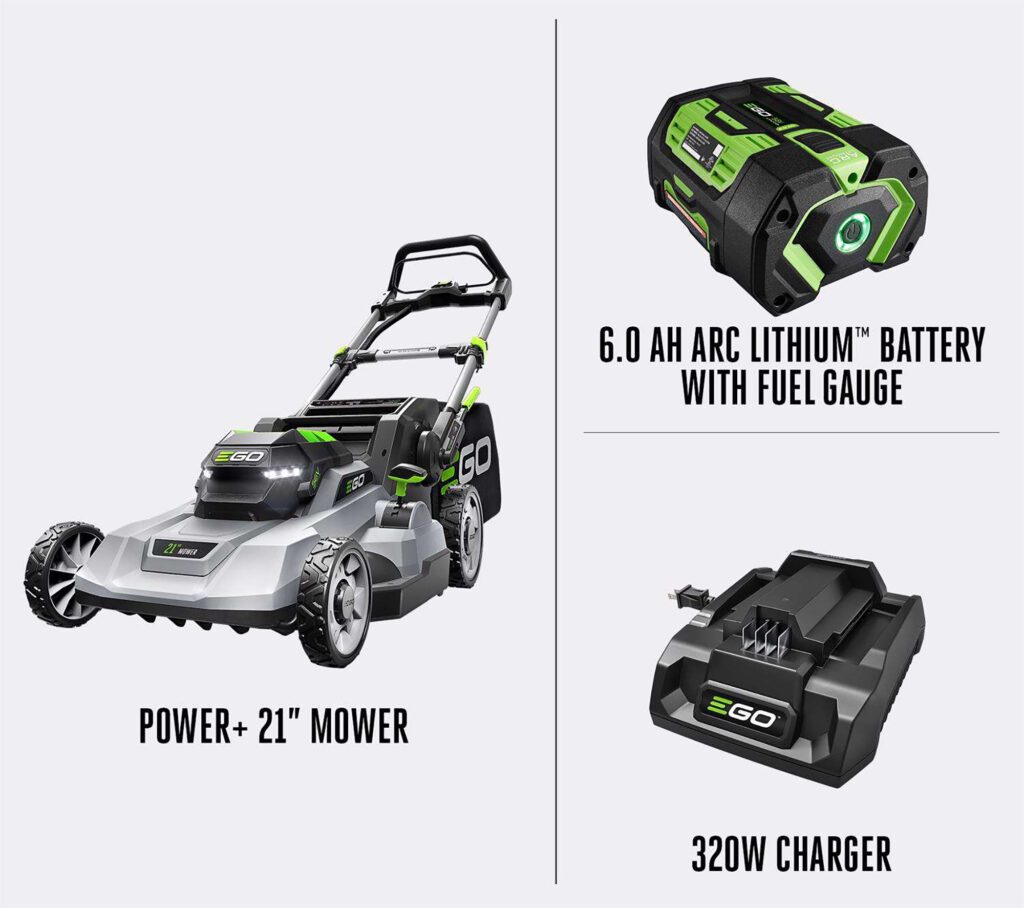 Built to Last, Rain or Shine
EGO didn't compromise on durability when designing this mower. Its IPX4-rated weather-resistant construction can withstand unexpected showers without missing a beat. The 5-year limited parts and labor warranty is a testament to EGO's confidence in their product's durability and reliability.
Homeowner Testimonials
The EGO Power+ LM2114 Electric Lawn Mower has garnered glowing reviews from homeowners. Users laud its light weight, easy handling, and long battery life. One satisfied customer described it as the "best lawn mower" they've ever owned, citing its power, ease of use, and superior battery performance as key reasons for their satisfaction.
The Lawn Mower Revolution is Here
The EGO Power+ LM2114 21 in. 56 V Electric Lawn Mower Kit from Louie's Ace Home Center is a lawn care revolution for homeowners in the Fallon and Dayton Nevada areas. This electric mower isn't just an alternative to traditional gas mowers; it's a clear upgrade.
Experience Power Beyond Belief for yourself. Visit Louie's Ace Home Center, a premier Dayton hardware store, and transform your lawn care routine with the EGO Power+ LM2114. You'll wonder how you ever managed without it.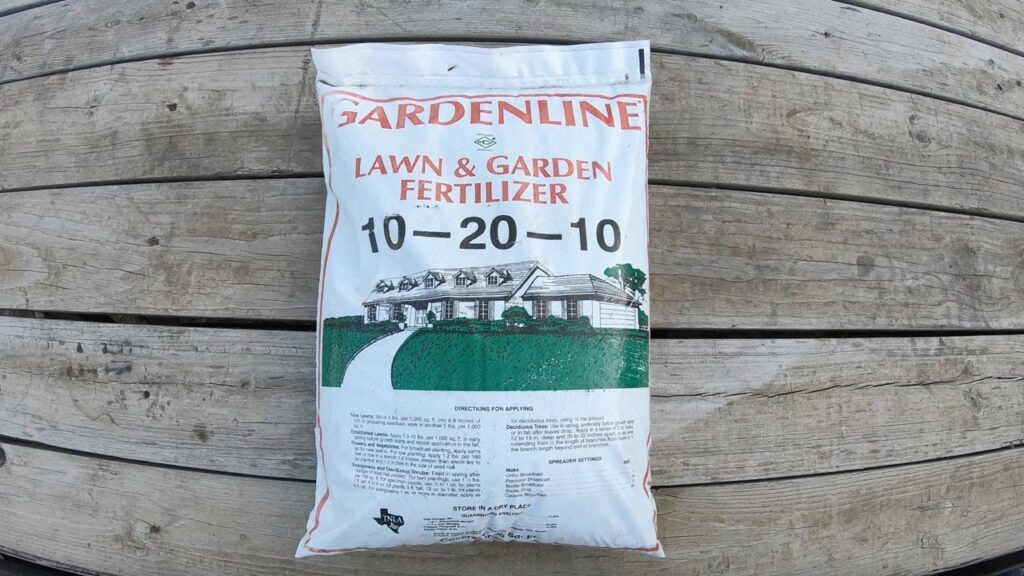 If you're a newbie to lawn fertilizer, then the numbers listed on the bag may seem like a foreign language when heading down an aisle of gardening supplies.These three numbers are known as fertilizer ratios, and by understanding what each number means, you can improve the appearance and longevity of your lawn.
Fertilizer is great for helping strengthen roots and promote new growth year round. Taking care of your lawn is important because the grasses commonly used can purify air and improve overall air quality, in addition to the fact that a nicely manicured lawn is aesthetically pleasing. Grasses are great at absorbing rainfall, preventing erosion, and purifies water for aquifers in the area.
N-P-K and Lawn Care
Each of the three numbers listed on the front of the bag of fertilizer represents nitrogen, phosphorus, and potassium. Together they are known as NPK ratios, and are indicated using their element symbols that you may remember from chemistry class. All three are essential elements in gardening products for growing a beautiful lawn.
 Each one serves a different purpose in ensuring your grass grows green.
Nitrogen (N): An essential element for plant growth, this element ensures your grass is plush and vibrant green. Without enough nitrogen, grass will turn a yellow-green tinge and will hardly grow.

Phosphorous (P): This element stimulates the grass at its roots. By having adequate phosphorus levels you ensure that your grass grows fast and without discoloration.

Potassium (K): A major component in guaranteeing your lawn will withstand the elements. Potassium strengthens each blade of grass to make it more resistant to any potential diseases, like browning or fungus. 
Which Ratio To Choose
NPK ratios apply to all types of fertilizer, but there are certain specifications to follow for lawns and all of the different conditions the lawn may be in.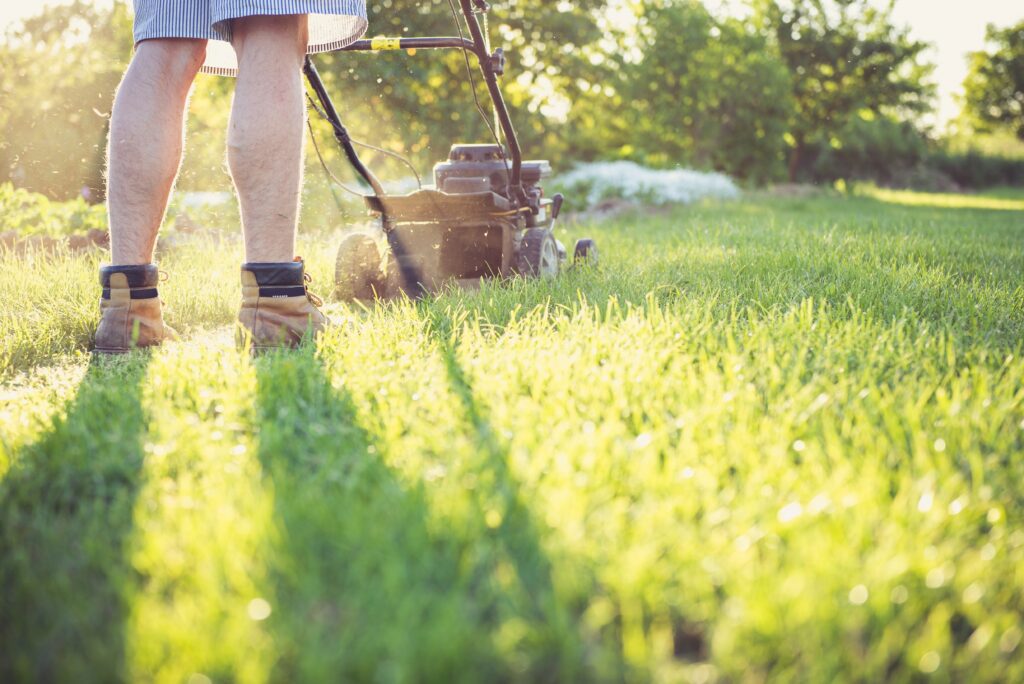 New Lawn:

For a new lawn, it's important that both phosphorus and potassium be the larger percentage of the ratio. New lawns require more attention to the health of their roots, and of course strength in order to grow full and plush. Using ratios like these should be temporary because phosphorus ultimately leads to major environmental issues.

Existing Lawn:

With an existing lawn, the roots are most likely strong and established. Because of this, the phosphorus and potassium levels don't need to be quite as high as those needed for a new lawn. Nitrogen is cheaper in comparison to phosphorus and potassium as well, so fertilizer with this kind of ratio is not only best for your existing lawn care routine, but your wallet as well.

Strained Lawn:

As mentioned before, potassium provides strength to your lawn. In extreme weather, a fertilizer with a high potassium percentage will help it to push through harsh weather conditions. Use a fertilizer with high potassium levels before the peak of summer heat, and winter freeze for best results.
Louie's ACE Products for Lawn Care and Their Benefits
Our gardening experts suggest fertilizer should be put on your lawn two through four times a year.  Resistance from pests, protection for the soil, and preventing pesky weeds are just some of the perks when taking care of your lawn with fertilizer from ACE Hardware. The fertilization process is cost-effective, simple, and environmentally friendly. Because of how low-maintenance lawn care can be, you can spend more time doing plenty of other fun outdoor activities this summer!  
Here's some of our ACE Hardware team's top fertilizer recommendations:
Scotts Turf Builder Crabgrass Preventer Lawn Fertilizer For Multiple Grass Types
https://www.acehardware.com/departments/lawn-and-garden/lawn-care/lawn-fertilizers/7232325
This fertilizer is one of our best selling options because it stops crabgrass at its roots and is safe for use on Bermuda grass. It's a great fertilizer to use in post-winter lawn care routines, and is a trusted formula no matter what climate you live in.
Milorganite Slow Release Nitrogen Lawn Fertilizer for all Grasses:
https://www.acehardware.com/departments/lawn-and-garden/lawn-care/lawn-fertilizers/70555
Milorganite is produced from the nation's oldest and largest recycling efforts. It's fortified with iron for a longer lasting green. The slow-release formula can be used on trees, shrubs, or flowers as well.
Pennington Ultragreen All-Purpose Lawn Fertilizer: 
https://www.acehardware.com/departments/lawn-and-garden/lawn-care/lawn-fertilizers/7002870
A quick greening, long lasting lawn is possible with Pennington and its premium blended fertilizer. With fast acting nitrogen for quick greening in addition to slow release nitrogen at 10.5% for extended feeding up to three months, the blend of fertilizer includes a boost of 5% iron.
Find the Best Gardening Products at Louie's ACE Home Center
At ACE Hardware, you can be assured that our hardware and garden supplies are top notch and in stock. With plenty of fertilizer choices for every budget, lawn, and gardening style, you can't go wrong with keeping your lawn healthy and happy.
Be sure to visit Louie's ACE Home Center for all your lawn care questions and gardening supplies!
When it comes to lawn mowers, there are a surprisingly large number of options available. Mowing the lawn can be a pain, so when it comes to choosing your tool it is important to choose the one that can help you tackle your yard the best.
Electric and gas mowers each have their own benefits that largely depend upon the type of yard you have, your personal choices, costs, and the level of maintenance you're willing to take on.
Gas Mowers
When you think of lawn mowers, it's likely that a gas mower is what first comes to mind. These mowers provide the power needed to easily tackle tough grass and mow larger areas without troublesome cords or having to re-charge a battery. A little gas can go a long way! Gas mowers also can be more durable and long lasting in comparison to some electric models.
If you're looking to be environmentally friendly, a gas powered mower is not the top option as it emits carbon monoxide and dioxide into the atmosphere. They also tend to be much noisier than electric mowers. Due to the additional mechanisms and pieces, gas mowers tend to be heavier as well.
Electric Mowers
A popular alternative to gas lawn mowers, electric mowers a great option for those looking to avoid some of the downsides to using a gas powered tool. Not only are electric mowers quieter, you also avoid the frustrating pull-to-start process of turning on a gas mower. Electric mowers also don't require sparkplugs or fuel filters eliminating the additional accessories needed with gas powered mowers. While they can be pricey up-front, electric mowers also can become cost effective over time.
Despite these benefits, electric mowers are not the best option if you have a large area to cover because they either come with cords or rechargeable batteries that last for only about an hour. They also can be dangerous when used in wet conditions as the electrical components can cause electrocution if they come into contact with water. An electric lawnmower isn't the best choice for lawns with tough grasses or for someone who may wait for their lawn to look like a jungle before taking out the mower.
Looking to upgrade your mower? Keep an eye out for Louie's ACE Home Center's "cash for clunkers" program this September! If you need other lawn care equipment for a short period of time, check out our ACE hardware rentals.