As the seasons change, you might realize you need a different look in your home. A room can lose its luster when it has old paint or wallpaper on it. A proper coat of paint can truly light up a room. This can pair with any style you might like and there are many fun things you can do with paint. For a first timer, things can get confusing which is why we composed a list of tips for painting walls.
Clean
You might not realize, but like anything else, walls can get dirty. In most cases, they are left without being cleaned for years (who has that kind of time). As you plan to create a new look in your home the first step is to wipe down those walls. You can remove dirt/lint/dust with a tack cloth. After grabbing a bucket, water, and a cleaner give your wall a well-deserved wipe down. Give your walls a chance to air dry by removing all outlet and light switch covers. Lastly, we don't want you to get anything on your furniture, make sure to cover anything and everything!
Find a Perfect Match
We all have different styles and ideas of how our houses should look. One of the most important tips for painting walls is making sure you get the right paint. Most hardware stores have services to match your paint. Along with getting the right color to know the difference between oil and water based paints, use denatured alcohol on a rag to wipe existing paint. If paint comes off on the rag the paint is water based. If there is no residue that comes off then you will have an oil based paint.
When you think about paint in a house I'm sure your first thoughts are different colors or plain neutral color. The last thing on your mind is about the different sheens incorporated into colors. This feature is actually very important for certain areas in your house. It either brightens and enhances how your wall looks, giving more detail (shinier sheen). Flat paint is good for a low traffic room such as bedrooms and hallways.
Rollers & Brushes
Paint is definitely needed in order to paint a house. However, the tools to apply the product are also extremely important. Having quality materials can help decrease streaks and help apply a smoother finish. When buying your materials, it is better to buy more. The reason is you will spend less time cleaning rollers and less money on running water. If you need a break once you start painting, cover your brush or roller with plastic bags and keep them in the fridge. This will keep the paint fresh and ready to use once you start your project again. Once the project is finally finished, store your brushes in a plastic baggie. This way the next time you use them they won't be dried out.

Paint Tips
Don't be fooled, taking on a painting project can be exciting. However, it is a long process and knowing some tips for painting walls will help make this adventure a little easier. First, use low odor and VOC (Volatile Organic Compound) paints for a safer environment for you and your family. When you finally choose a color make sure to use contrasting trims to make the room pop. Also, if you are using dark paints make sure you let the wall dry for 6 hours between coats. This way you won't rewet the paint causing streaks and patches to happen during your next coat. Lastly, make sure to save some of your paint for future touch-ups throughout your house. 
Contact Louie's ACE Hardware
Looking for a paint match or materials in order to paint your home? Check out Fallon's local hardware store, Louie's Ace Hardware. We will have everything you need to get you started on your next project! We offer ACE hardware rentals such as paint sprayers and fixture sprayer rentals for your painting project.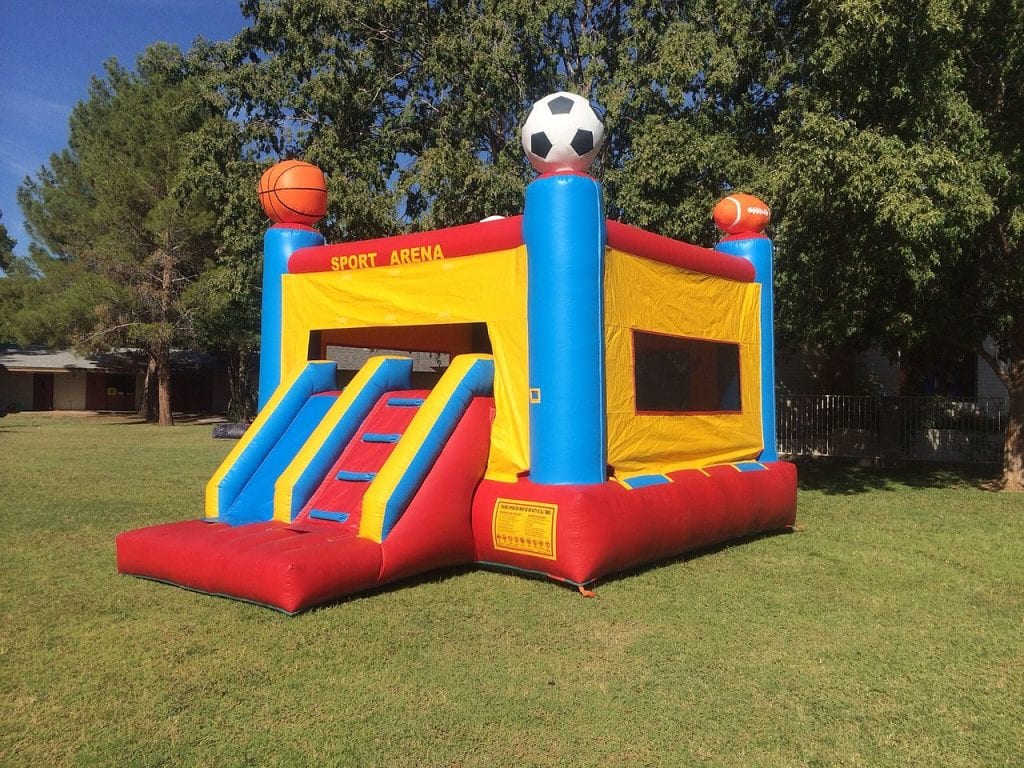 At Louie's ACE Home Center, we do more than just supply you with all of your hardware needs, we also provide ACE Hardware party rentals for special events. Are you planning a party and want to liven it up with an ACE bounce house or cotton candy machine? Well, let us help you with that. We make the process easy and painless, allowing you to enjoy your special event!
Party Rentals
You may know that Louie's provides several types of ACE Hardware rentals in their store, but did you know about their party rentals? Elevate your special event with any of these items provided by ACE Hardware:
Tents
Party tents are perfect for big outdoor events that could use a little extra coverage. Don't let your party guests sit outside in the hot sun while they fight off bugs and wind, give them some protection. A tent can be a nice area for guests to escape the sun, cool down for a bit, or just get away from the party commotion.
Bounce Houses
Planning a party for your little one? Or just want to plan a nonconventional adult party? Don't miss out on the chance to enhance the fun with an ACE bounce house! The addition of a bounce house will give any party the extra pizzaz it needs to make your special event stand out from the rest.
Cotton Candy Machines
Cotton candy is a kid classic, and even some adults can't contain their sweet tooth when this treat comes around. Make your party unique with freshly made cotton candy right at your fingertips.
Tables and Chairs
Are you low on seating for your guests? Don't make them stand, just call Louie's Home Center. We have tables and chairs available for rent so all of your guests can feel comfortable.
Why Choose Louie's ACE Hardware For Your Party Rental Needs
Louie's ACE Hardware Home Center has always been there for you when you needed to make a home repair or had a question about which gardening tools are best. Not only do we provide ACE Hardware rentals but let us help you with your party planning too with ACE Hardware party rentals! We are open Monday through Sunday from 7 am to 7 pm, meaning you have access to party rentals 7 days a week! And don't feel stressed about having to pick up equipment and set it up alone because ACE has that covered too. You can either pick up in store or schedule delivery and set up at your desired location. Call and ask about our competitive pricing which includes all sales tax and has no additional fees. If you're looking to enhance your special event, give Louie's ACE Hardware Home Center a call at 775.423.7008!
When you're searching the aisles for the best product to use for your upcoming project, it's good to see a familiar brand in Nevada hardware. One that you already know and trust. When you're looking for a drill that is durable and built to last, you'll probably look at a Craftsmen or a Black and Decker. And if you want the best wood fire grill you'll most likely head straight for the Traegers. At Louie's, we're happy to share with you the quality national brands that you know and trust. 
Best Nevada Hardware Products to Use This Summer
Toro
Toro creates high-performance landscaping equipment ideal for homeowners. At Louie's Home Center, we carry various Toro lawn mowers, leaf blowers, and string trimmers that are perfect for maintaining your lawn and garden this summer. Summer is the perfect time to get your yard looking its best, and to get there you should use the best products to care for it.
Scotts 
One of the most popular brands of lawn food, soil, and weed control is Scotts. You've probably seen the name placed inside the green oval on their packaging in stores, and Louie's is proud to be one of them. If you're looking for a green and luscious looking lawn this summer, give Scotts brand products a try. 
Yeti 
If you want a cooler that can handle trekking through your summer adventures with you, then a Yeti cooler will be your go-to. Not only does this brand carry high-quality hard and soft coolers, they also make stainless steel, insulated thermoses, mugs and tumblers. You can depend on the durability of Yeti products, and you can pick up one of these coolers or tumblers right here at Louie's. 
Stihl
This is another brand that puts out high caliber products that you can count on. Stihl creates outdoor power equipment that will last throughout the seasons. At Louie's, we offer battery operated Stihl products that will not only keep your yard in tip top shape, but these battery powered items are more sustainable and environmentally friendly. From chainsaws to hedge trimmers, Stihl carries a wide variety of outdoor tools which will come in handy for the summer season.

Craftsman
Craftsman is a well known brand of hand and power tools. When you're looking for something reliable and durable, you may want to consider using a Craftsman tool. They have a wide variety of screwdrivers, hammers, saws, drills, and so much more. And you can now find Craftsman tools at Louie's Ace Hardware.
Get These Products Here, at Louie's Ace Home Center
At Louie's, we strive to provide our customers with the best hardware products and hardware rentals available. Whether it be for purchase or rent through ACE hardware rentals, our friendly employees are experts at finding the best brand for you. Whether you're concerned about your budget or have a specific product in mind, we can help you decide. Connect with Louie's Ace Home Center or view our products and hardware rentals today!
When it comes to taking on new DIY projects, timing is everything. It can make the difference between your project being a success or a total flop. For example, you wouldn't want to start renovating your landscaping if there was snow on the ground because it would cause too many problems. Like this scenario, you could be faced with many issues by choosing to tackle a DIY project at the wrong time. So, take a look below to see when the best time of the year is to start your next DIY job. 
Interior DIY Projects 
The time in which you take on interior projects isn't as dependent on weather inclemencies since your home shields you from the outdoors. However, weather can still affect interior projects in a variety of ways. For instance, tools or materials may cost less at a certain time of the year, and temperature often impacts the overall outcome of certain projects as well. So, take a look below at a few interior projects and suggestions for the best time to get them done.
Interior Painting: Fall/Early Winter
Interior painting can really be done at any time, but the fall and early winter are the best times to refresh your home's old indoor paint. Colder temperatures could help to cure your paint more quickly, but be weary of drastically low temperatures as they can affect the quality of the paint and prevent proper drying. Also, if you do decide you need some assistance, painting professionals are usually slower in the colder months and may even offer special deals during this time.
New Flooring: Spring    
When it comes to installing new flooring in your home, the spring is the best time to have it done. That's because hardwood floors don't react well to hot and humid climates. These types of environments can cause the wood finish to cure too quickly which results in the sheen drying improperly. Instead, try installing floors when it's a bit cooler out. 
Kitchen Updates: Summer
Kitchen updates such as painting, installing new cabinets, or redoing the countertops are best done in the summer months, but this may depend on your specific lifestyle. Because most people utilize their kitchens frequently during the holidays, winter isn't a good time to start a major kitchen renovation. However, summer may be a good time to do this because you're able to grill food outside and typically aren't limited to only being indoors. 
Exterior DIY Projects 
Exterior DIY projects need to be done during optimal weather conditions. If it's snowing, raining, or freezing outside, your project will likely be ruined by the poor weather. In order to prevent an avoidable disaster, try to plan exterior projects around your climate. So, take a look below to see when is the best time to take on various exterior projects. 
Deck: Early Winter 
In order to have your deck finished in time to use it for the spring season, you should start building it by early winter. Fortunately, if you do need some assistance, contractors are less busy during this time of the year and you may be able to save money on materials such as wood. Because it's generally pretty cold and wet during the winter months, most people don't enjoy being outside too much, so you also won't be disrupting any outdoor events you may have planned. And, believe it or not, the cold, cloudy weather you typically experience in early winter is perfect for helping pressure-treated wood dry and reduces the risk of warping or splitting.
Landscaping: Spring
You want to refresh your yard right before it gets too warm out. So, the best time to start a landscaping project where you plant shrubs, trees, plants, or grass, is in the spring. This will give your plants the best chance to grow and acclimate to their new environment. 
Exterior Painting: Summer
Exterior paint is best applied in the summer months. The type of paint used for the exterior of homes perform better when there is less temperature changes between night and day. This will allow for proper drying to occur and results in a better appearance. 
Get Prepared for Your DIY Project with Louie's Home Center
At Louie's Home Center, our expert staff members can easily help you find the right tools and hardware needed to complete your project. Here, we'll use our knowledge and experience to guide you in the right direction and get you through your project at each phase. Whether you're looking for the best hammer or the best power tool, our team is here to help. Connect with us today or shop our products to learn more! 
When it comes to lawn mowers, there are a surprisingly large number of options available. Mowing the lawn can be a pain, so when it comes to choosing your tool it is important to choose the one that can help you tackle your yard the best.
Electric and gas mowers each have their own benefits that largely depend upon the type of yard you have, your personal choices, costs, and the level of maintenance you're willing to take on.
Gas Mowers
When you think of lawn mowers, it's likely that a gas mower is what first comes to mind. These mowers provide the power needed to easily tackle tough grass and mow larger areas without troublesome cords or having to re-charge a battery. A little gas can go a long way! Gas mowers also can be more durable and long lasting in comparison to some electric models.
If you're looking to be environmentally friendly, a gas powered mower is not the top option as it emits carbon monoxide and dioxide into the atmosphere. They also tend to be much noisier than electric mowers. Due to the additional mechanisms and pieces, gas mowers tend to be heavier as well.
Electric Mowers
A popular alternative to gas lawn mowers, electric mowers a great option for those looking to avoid some of the downsides to using a gas powered tool. Not only are electric mowers quieter, you also avoid the frustrating pull-to-start process of turning on a gas mower. Electric mowers also don't require sparkplugs or fuel filters eliminating the additional accessories needed with gas powered mowers. While they can be pricey up-front, electric mowers also can become cost effective over time.
Despite these benefits, electric mowers are not the best option if you have a large area to cover because they either come with cords or rechargeable batteries that last for only about an hour. They also can be dangerous when used in wet conditions as the electrical components can cause electrocution if they come into contact with water. An electric lawnmower isn't the best choice for lawns with tough grasses or for someone who may wait for their lawn to look like a jungle before taking out the mower.
Looking to upgrade your mower? Keep an eye out for Louie's ACE Home Center's "cash for clunkers" program this September! If you need other lawn care equipment for a short period of time, check out our ACE hardware rentals.
Spring has definitely sprung, and for those of you who are desperate to get out into the garden and get started, here are some top tips to help you make the most of the longer days and prepare a garden to be proud of all year round.

Have a Tidy Up
It doesn't matter if you're a green-fingered expert or a complete beginner, all gardens need a thorough tidying up after the winter. Mulch your borders with compost or manure and stop any young weeds in their tracks. All your hard work will pay off when it's time to sow seeds and start the most fun part of gardening- planting!
Plant Trees and Shrubs
Definitely most people's favorite part of gardening! After all, that hard work tidying up and removing unwanted plants, it's time to get planting. If you didn't manage to plant trees and shrubs during the fall, the ground should now be free from frost and therefore soft enough for you to get planting now. That way, your new plants will be fully established by the time winter hits again.
Pack Down Exposed Roots
Ground frost can cause roots to lift out of the ground during cold weather. It's important to pack them back down again during spring. This will give your plants a fighting chance of survival!
Collect Fallen Leaves
If you have any deciduous trees (those that shed their leaves in winter), make your own leaf mold by putting the fallen leaves in trash bags with a little water. Tie the tops of the bags and make a few small aeration holes in the side before storing them in a sheltered part of your garden. By summer, you'll have nutritious leaf mold ready to pamper your plants with. It can be added to soil and potted plants. Plus it actually reduces the need for watering: no bad thing here in the desert!
Sow Summer Plants
Sow summer bedding plants indoors in early spring. They can then be moved outdoors in late spring/early summer, once the weather warms up and there's little chance of frost damage.
Plant Veggie Crops
If you planted vegetables last year, remove any old crops completely before sowing new seeds. Prepare seedbeds and fertilize your soil ready for this year's crops, then look forward to all those delicious homegrown dinners! We hope this post has inspired you to get out in the garden and get busy. At Louie's ACE Home Center, we have everything you need to fully embrace the joys of spring gardening, so pay us a visit today! We offer lawn care equipment from our ACE hardware rentals.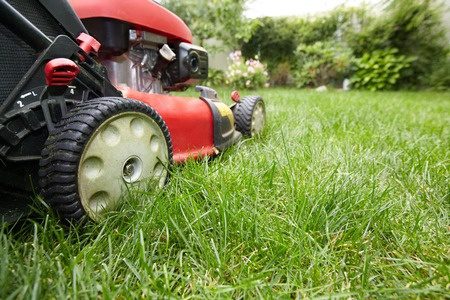 A beautiful, verdant lawn is the focal point for many gardens. Images of lush expanses of cool grass often feature in gardening magazines. However, maintaining a lawn to be proud of is significantly harder to do in northern Nevada's desert climate.
Never fear though, it is possible! We've put together a list of handy hints about how to keep your lawn looking lovely throughout the summer months. Louie's Home Center offers ace hardware rentals such as batchers, aerators, high-weed mowers, and weed whackers for lawn care.
Know The Best Time To Water
This handy leaflet recommends watering at night or during the cool morning hours to minimize evaporation. It's best to avoid the peak water consumption hours of 4 - 9 p.m.
But how often should you water? This depends on the weather, the soil and the turf type. However, a good rule of thumb is not to water more than once every three days during the summer. This will encourage your lawn to develop a deep root system. A long soak two to three times a week is definitely better than a short, daily soak- that will just create a shallow root system.
To figure out how much to water, you can check out www.wateruseitwisely.com for a helpful guide.
2. Make Your Water Count
Water is a precious resource, and too often around Reno we see people's sprinklers watering everything but their lawn! Invest in a decent adjustable sprinkler that suits your lawn shape and size. This will save you money and ensure that the water is being directed where it's needed.
3. Let Your Lawn Breathe
Did you know that lawns need oxygen as well as water? It's important to keep them aerated, which lets air circulate and prevents roots from getting compacted. It also makes your lawn much more efficient at absorbing that precious water!
It's best to aerate the day after you've watered, so the ground is a little softer. This page recommends pushing a garden fork into the ground at about six inch intervals. However if you're lucky enough to have a large lawn, it's probably best to hire an aeration machine.
4. Feed Your Hungry Lawn
Regular feeding with a good fertilizer is essential for proper growth and a good green color. However be careful- an over-fertilized lawn will require more water and more frequent mowing. More is not necessarily better, so be sure to carefully follow the packet instructions!
The Desert Lawn Care Guide recommends using slow release fertilizers, as they release nutrients more efficiently and can be applied less frequently. It's best to fertilize in the early morning or evening, then water thoroughly.
5. Mow At The Right Height
Proper mowing is crucial to maintain a healthy lawn, but don't overdo it! A lawn cut too short requires more water. We recommend raising the cutting height of your lawnmower during summer to keep your lawn looking its best. That way, the grass won't dry out as quickly in the hot sun and the longer blades of grass will better protect the roots.
Of course, a top quality mower is really important too. The Craftsman 6.75 Torque Rear Bag Push Mower is a real deal at $239.99 instore. With five point height adjusters with 1.1″-3.4″ range, it's the perfect option to ensure you're mowing at the right height.
6. Accessorise Your Lawn
After you've gone to all that trouble of ensuring your lawn is healthy and beautiful, you're going to want to show it off! The Catalina six piece resin wicker bar garden furniture set with umbrella will look beautiful in your garden, and will provide a lovely shady spot from where to admire all your hard work. What's more, it's currently on special at $299.99- that's $100 off!
You could also create some beautifully ambient evening lighting for summer nights in the garden, by placing tea lights in Mason Jars. We have them available in packs of twelve for just $12.99.
So there you have it: our top tips for keeping your lawn looking lovely through the Nevada summer. Why not try taking before and after pictures of your lawn so you can compare the difference? And if you have any lawn tips of your own, we'd love to hear them. Be sure to check out Louie's Home Center for all of our lawn care ACE hardware rentals. Happy gardening!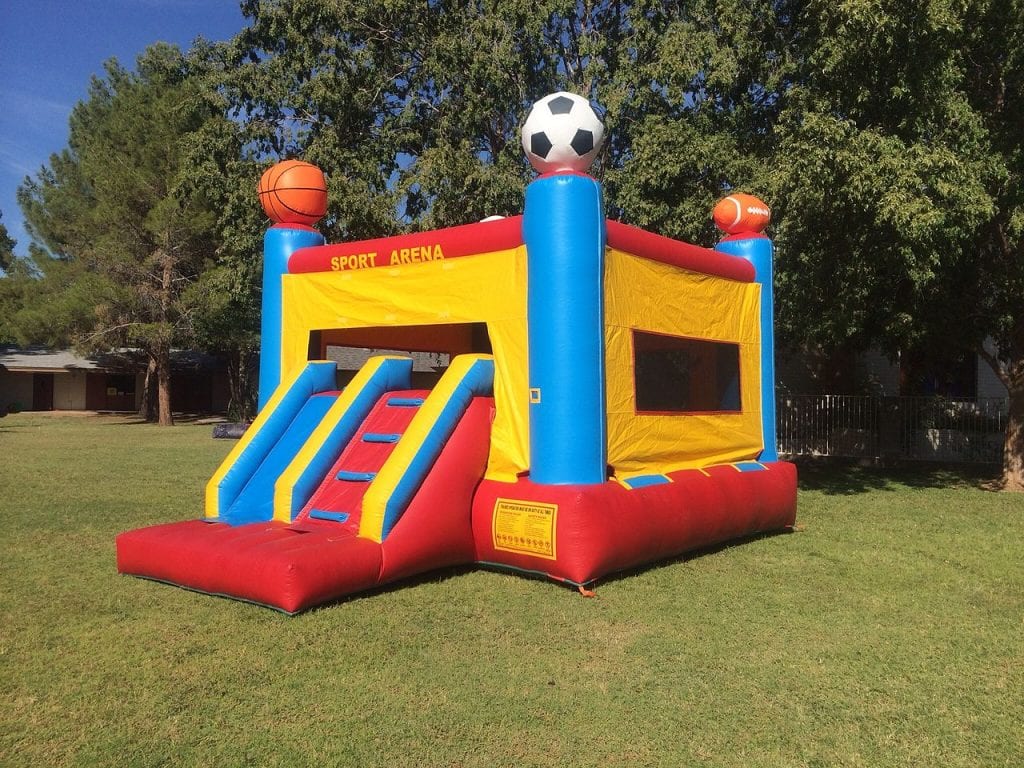 Whether you are looking for a bounce house or cotton candy machine for your child's birthday party, or tables and chairs for your next big family gathering, the last place you may think to look is your local ACE Home Center. Although we do offer ACE hardware rentals, we offer ACE hardware party rentals as well.
But, there is a little known secret to throwing any kind of party in and around Fallon. Louie's ACE Home Center is more than a hardware store. We offer ACE hardware rentals and ACE hardware party rentals. It has tents, bounce houses, tables, chairs, and even cotton candy machines to rent. Locals know Louie's as the best place to get rentals in Fallon.
You can plan a party on budget when you go to Louie's ACE Home Center for your party rental needs. Here are just a few creative ways you can use party rentals to add happiness to any type of gathering.
Have a Ball with Bounce Houses
Bounce Houses are lots of fun. But, did you know adults can enjoy them too? Consider adding a bounce house to your company event and giving adults permission to jump. At Louie's ACE Home Center, you can find bounce houses that are rated for all ages fun.
Tents for Chillier Days
The temperature is dropping, but that doesn't end your ability to have an outdoor event. Tents with walls hold heat well. Or, place the tent against a structure during the day for shade and residual warmth.
Sit Comfortably with Our Tables and Chairs
Tables and chairs can be used year-round. Expand your indoor space by adding tables and chairs in your living room for Thanksgiving dinner. Or, pair up tables and chairs with one of our tents for a comfortable fall outdoor luncheon.
Cotton Candy Machines: Cotton candy machines make great party additions. They are also good for fundraisers. School is back in session and your fall fundraiser could include delicious cotton candy with one of the machine rentals from Louie's ACE Home Center.
So, you see, there are many creative uses for ACE hardware party rentals and you can get all of them at Louie's ACE Home Center in Fallon. We have also expanded our party department to include balloons, pinatas, tablecloths, napkins, plates, and much more!
Let our party team help you plan your next event!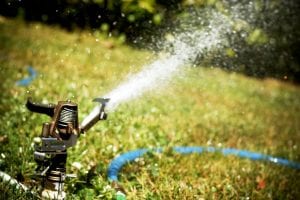 The first snowflakes of the year have fallen and, if you haven't begun winterizing your sprinkler system, you need to. Split or ruptured pipes can cost you hundreds if not thousands of dollars to repair.
We have put together some easy, step-by-step instructions on how you can winterize your sprinkler system yourself. We recommend the same technique used in the northeast, the blow out method, for winterizing a sprinkler system.
This method gets all the water out of the lines and is an easy and effective way to winterize. You can get all the parts for this do-it-yourself project at Louie's ACE Home Center.
Step one: Get an air compressor.
Use an air compressor with an 80 to 100 cubic foot per minute (CFM) rating. Make sure the sprinkler system you want to winterize has a mainline for water of 2-inches or less. You can purchase an air compressor, or rent one from our ACE hardware rentals. We have all the hook ups as well.
Step two: Locate the connections.
Locate the air hose connections. Make sure you use a connection located after the PVB back flow preventer. In the Fallon area, homes built in the last 15-20 years have a back-flow preventer on the sprinkler system. If you don't have one, crack the pipe and the sprinkler valve and connect the air hose there to assist you in winterizing the sprinkler system.
Step three: Get the appropriate attachments.
You can make your own attachment (a jig) and connect it to your irrigation system. We can help you locate the parts and make it. Jigs are made with a washing machine hose, cut to 18 inches, a quick coupling, and a threaded to bared connector to combine the coupling and the hose. Screw it into the existing hose bib.
Step four: Shut off the water supply.
Trace the pipe back or locate the main water meter for your house. Make sure no new water can flow into the lines.
Step five: Drain the inside and outside water lines.
Most systems have a drain plug or sill cock drain. Open the valve and drain it into a bucket. Allow the pipe to drain completely. Go outside and close the back-flow isolation valves. Open and drain the test cocks on the PVB.
Step six: Attach the compressor.
Keep the valves closed and attach the air compressor hose to the fitting. DO NOT run a compressor with an open valve. It can lead to a damaged zone valve gate.
Step seven: Turn on the zones one by one and blow out.
Start with the zone which is highest in elevation and furthest from the compressor and turn it on. Blow out each zone for two minutes. Do this until no water can be seen coming out of the heads. Repeat the process until it is dry.
Step eight: Disconnect the air compressor.
Disconnect the air compressor and release any air pressure from the lines. Open and drain all test cocks on the PVB to make sure no water is left inside.
Step nine: Open and close the isolation ball valves on the PVB back-flow device.
You do this to ensure any trapped water is gone from the upper areas of your system. Turn and leave these valves at a 45-degree angle to complete winterizing your sprinkler system.
Step ten: Return the equipment.
If you rented the compressor from our ACE hardware rentals, don't forget to return it in a timely manner so someone else can use it to winterize their sprinkler system. Happy winterizing!
Imagine spring cookouts, breezy air, and a lush, green lawn to enjoy it all on. In Fallon, Nevada, keeping a nice lawn can take a lot of work. Unlike other climates, it takes the use of sprinklers and regular upkeep to keep your grass bright and vibrant. With that comes regular maintenance, especially after the winter season.  Luckily, at Louie's Ace Hardware, we have all of the lawn care hardware rentals that you need to have the yard that you've been dreaming of.
Thatching
After the long winter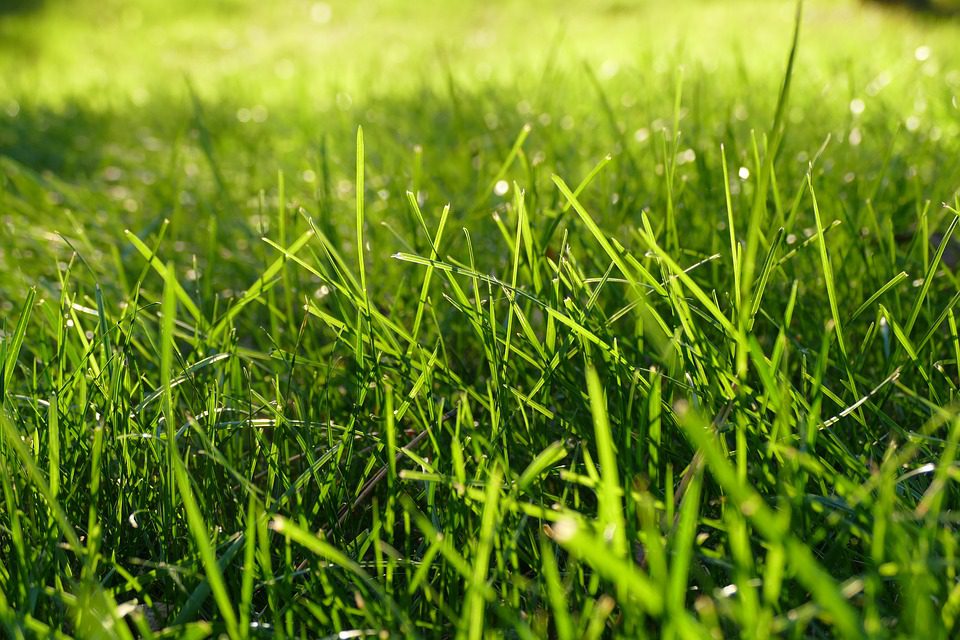 , thatch can build up and prevent your grass from looking its best. When the dead grass that gets stuck between living grass and the soil is not able to receive proper air, water, and nutrients, your lawn can look less than stellar. At Louie's Ace Hardware, we carry all the lawn care hardware rentals you need to remove thatch and restore your lawn to its prime.
Aerating
It's that time of the year again! Time to aerate your lawn to allow air, water, and nutrients to get to get to the grass roots. If you're lawn is looking dead and colorless, this is a great way to alleviate soil compaction. In dryer climates like Nevada, aerating can save your lawn. Stop by our hardware rentals department for all the equipment you need to get your lawn looking in tip-top shape!
Rototiller
Wedding or digging a garden by hand can be tedious and time consuming. That's where a rototiller comes in hand. These handy tools can make gardening a breeze. We carry them as a rental item, so that you can have the added convenience without the pressure to store them throughout the year.
Lawn Roller
A lawn roller can be great for erasing damage caused to your lawn throughout the winter. You can flatten ant and mole hills quickly, and make your lawn look flawless.
There's nothing that says spring more than a lush lawn. So what are you waiting for? Stop by to check out our ACE hardware rentals you may need for your lawn and garden this season. We make lawn care and other hardware rentals easy and affordable, and our knowledgeable and friendly staff are ready to assist you. Want to inquire about our hardware rentals? Give us a call. We hope to see you soon!