Performing routine RV maintenance can extend its life and save you thousands of dollars. However, if your RV is neglected, vital parts can stop working and can cost a great deal to fix. Making the investment of time and money in an RV throughout its life is worth it! Don't miss a vacation because your RV was not given the proper TLC. Check out Louie's Ace Home Center for answers and parts to help you get started!
Contact Our Fallon Hardware Store
Here are the tasks that should be completed on a monthly and annual basis:
Monthly Routine RV Maintenance Tips
Run your generator for 2 hours each month to flush old gasoline and gunk out of the generator.
Check water levels. (use distilled water only)
Check hoses and clamps to make sure they are secure and show no signs of leaking.
Test your smoke and carbon monoxide detectors monthly.
Every 6-8 weeks run a ½ cup of bleach through the fresh water tank and let it sit for the day (this ensures that the next time you go on a trip, you'll have clean, fresh water).
Transmission, tires, and the engine require regular maintenance.
What Do I Need To Do Each Year?
Service A/C & furnace.

Heating and cooling systems need to be repaired every year.

Replace filters and vents.
Brakes need to be serviced annually to assess wear and tear.
Vacuum the carbon monoxide and smoke detectors and wipe them down with a lightly dampened cloth and dry off.

NEVER use cleaning solutions on your detectors, it will ruin them.

Check for rust, paint chipping, dings & dents regularly.
Service/check your propane tanks annually (or every 5000 miles).
Reseal your RV every year.
Other Helpful Routine RV Maintenance Tips
Lubricate cabinets and other landings, as necessary, so they don't stick.
Keep record of when you need to complete repairs and maintenance checks.
Always perform preventative maintenance on your RV before taking it on a trip. This includes: cleaning, inspecting, and servicing.

This will save you money and time.
How Louie's Ace Home Center Can Help
Here at Louie's, we offer a wide variety of RV accessories and parts to help you keep your RV maintained. If you need a part, stop by and talk to one our knowledgeable representatives. We also offer ACE hardware rentals for other needs. Give us a call to answer any questions you may have!
Learn More Routine RV Maintenance Tips
Spray paint comes in a variety of colors making it a fun and versatile choice for your next at-home project. Whatever your goal is for taking on a new DIY project, spray paint can help bring just about anything to life with the right idea. Louie's ACE Home Center has a huge selection of products ready to assist you with your next indoor or outdoor task.
Below we put together a list of our favorite DIY spray paint projects that will keep you entertained for most of 2022.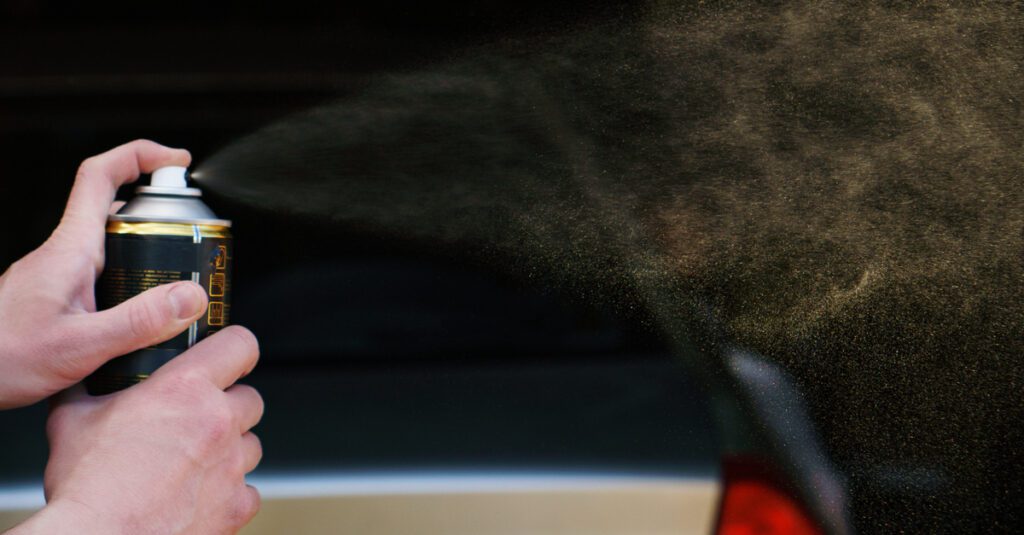 1. Spray Paint Terra Cotta Pots
If you consider yourself a plant enthusiast, you already know that terra cotta pots are the best choice for keeping your plants alive. Unfortunately, the color choices available for terra cotta pots tend to be slim picking, making this a great DIY project for any plant lover.
Pick out an affordable terra cotta pot, choose your favorite mix of spray paint colors, and head to your local ace store to rent a paint sprayer. Then you are ready to begin livening up your item.
2. Mason Jar Organizers
Spray paint the outside of your mason jars to create a new exciting look for this simple item. Mason jars add a chic rustic look to any space and can be used to store your small home necessities. The endless amount of colors obtainable gives you the option to spray your jars with a solid color for more privacy or add a semi-translucent, frosted finish for a pop of color. Check out some more unique uses for mason jars here.
3. Faux Galvanized Metal Tubs
This next project is a great addition to your next social gathering. It is easy to find a range of sizes for plastic bucket containers at an affordable price. Easily upgrade this item to have a more industrial design with metal spray paint cans. After they dry, you can fill your new faux galvanized metal tubs with ice and beverages. This affordable project helps you create the perfect DIY beverage holder for your next house party.
If that doesn't seem useful, use these newly repurposed plastic containers to organize your bathroom. Depending on the size, you can fill them with hand towels or bath towels adding an urban-chic look to any space. Feel free to liven up the piece by surrounding it with a few candles. No one will ever guess these are faux!
4. Spray Paint Rock Bookends
No matter where you live, there is typically an abundance of rocks found outdoors. After finding two sturdy-looking rocks, upgrade their raw look with one easy fix. You can use Ace Hardware's gold and silver metallic spray paint to quickly modernize this natural element in your home. After the paint dries, glue thin cork stoppers to the bottom, and there you have it, metallic rock bookends.
Don't stop the fun there! Find small rocks and spray paint them to add a little organic sparkle to your office. These small metallic rocks act as a great paperweight or even a fancy desk accessory.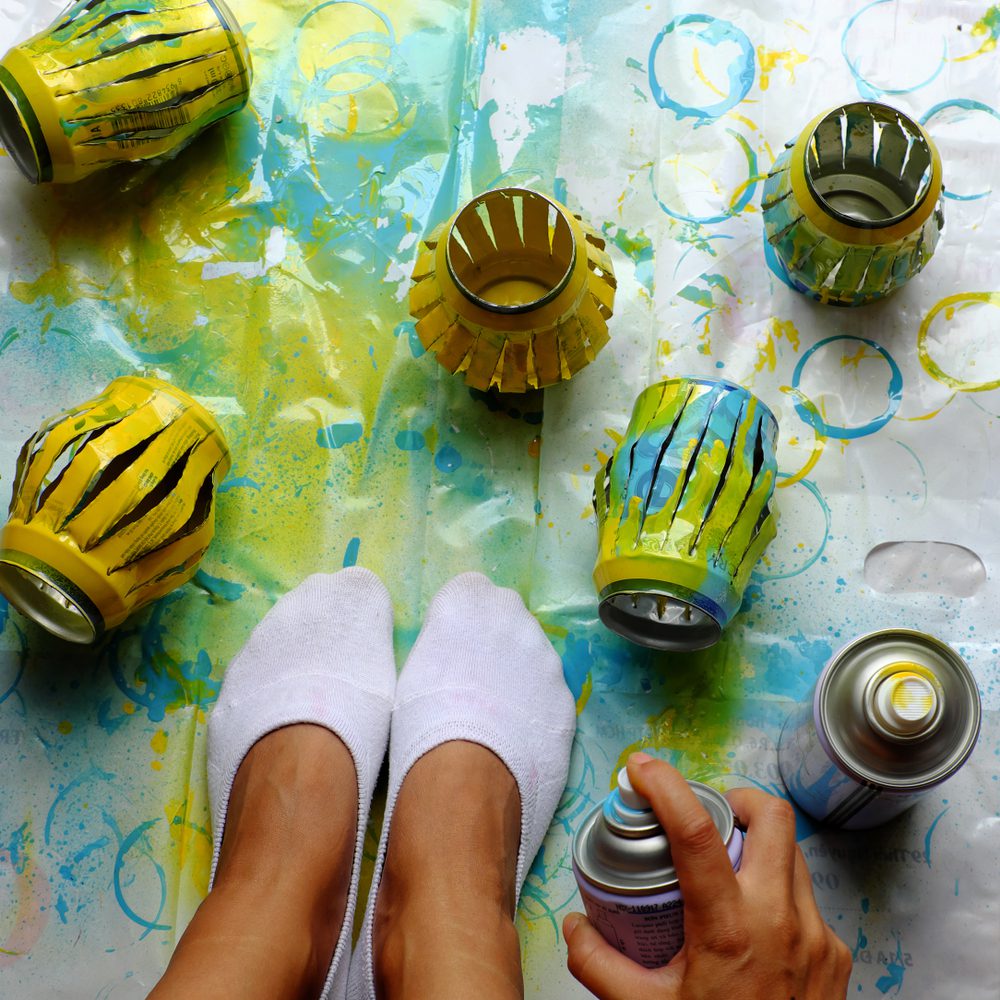 5. Tire Dog Bed
If you are a dog lover, this next one is for you. Whether you work from home or go into the office each day, your furry friend probably spends most of that time sleeping. Keep them cozy, while they wait for you to play with this easy-to-make tire bed.
Simply repurpose an old tire by stopping by Louie's ACE Hardware and renting a paint sprayer. This tool will help you finish fast. Pick out your favorite color and get to work spraying. After the tire dries, you can add an oversized pillow to the hollow center, and easily make your fur friend a new comfortable spot to lounge around.
6. Lego Head Jars
Here is another fun mason jar project to help keep you (and your little one) organized. Spray paint the exterior of any size mason jar yellow. After, use a permanent marker to make fun lego faces. This is a perfect way to store legos or other small toys that always seem to get lost at the bottom of your toy chest.
7. Redesign Chair and Stools
Tired of your dining room set? Energize any room with a new look. This project is another chance for you to try out our paint sprayer rental. Make sure you mask and cover any fabric showing on your chairs. Afterward, you can use the new paint sprayer rental you picked up at your local Ace Hardware store and quickly rejuvenate your dining set. Paint sprayers are also great at rejuvenating old stools or outdoor furniture you might have that seems bland.

Louie's ACE Hardware Rentals
Come down to Louie's ACE Home Center and let us help you with your next at-home project. We offer a variety of Hardware rentals, including hand held paint sprayers, to help you take on any project. Our friendly staff can help guide you in the right direction to help save time and money on your next project. Visit our website to see all the affordable indoor and outdoor hardware rentals we have to offer.
At Louie's ACE Home Center, we do more than just supply you with all of your hardware needs, we also provide ACE Hardware party rentals for special events. Are you planning a party and want to liven it up with an ACE bounce house or cotton candy machine? Well, let us help you with that. We make the process easy and painless, allowing you to enjoy your special event!
Party Rentals
You may know that Louie's provides several types of ACE Hardware rentals in their store, but did you know about their party rentals? Elevate your special event with any of these items provided by ACE Hardware: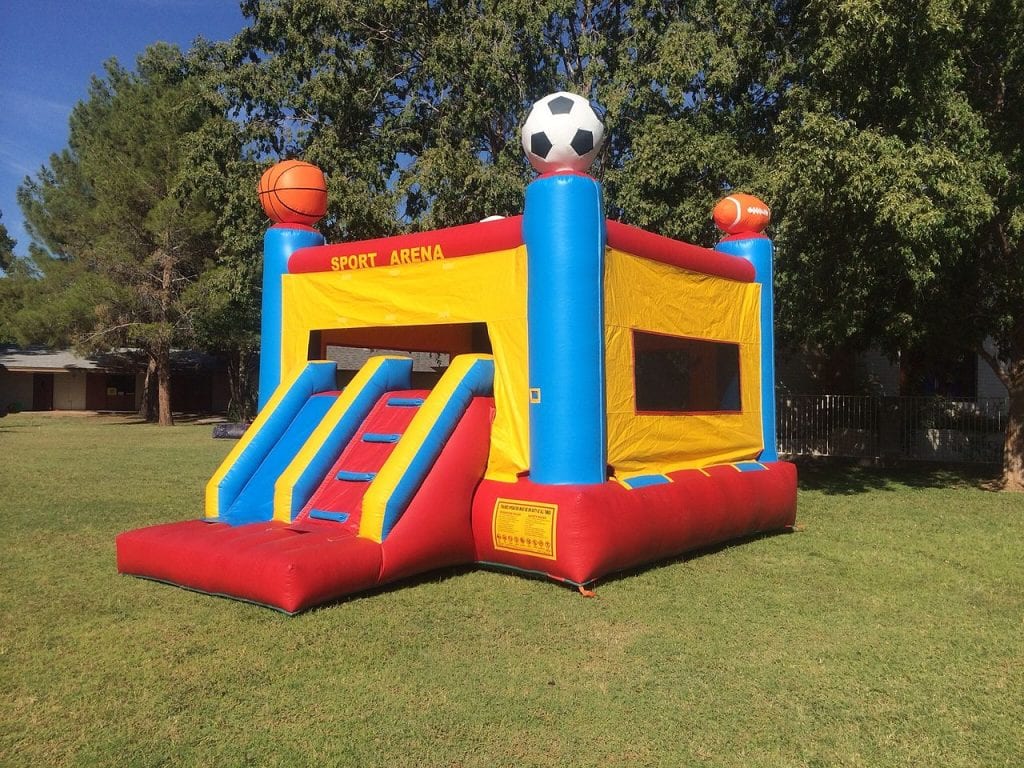 Tents
Party tents are perfect for big outdoor events that could use a little extra coverage. Don't let your party guests sit outside in the hot sun while they fight off bugs and wind, give them some protection. A tent can be a nice area for guests to escape the sun, cool down for a bit, or just get away from the party commotion.
Bounce Houses
Planning a party for your little one? Or just want to plan a nonconventional adult party? Don't miss out on the chance to enhance the fun with an ACE bounce house! The addition of a bounce house will give any party the extra pizzaz it needs to make your special event stand out from the rest.
Cotton Candy Machines
Cotton candy is a kid classic, and even some adults can't contain their sweet tooth when this treat comes around. Make your party unique with freshly made cotton candy right at your fingertips.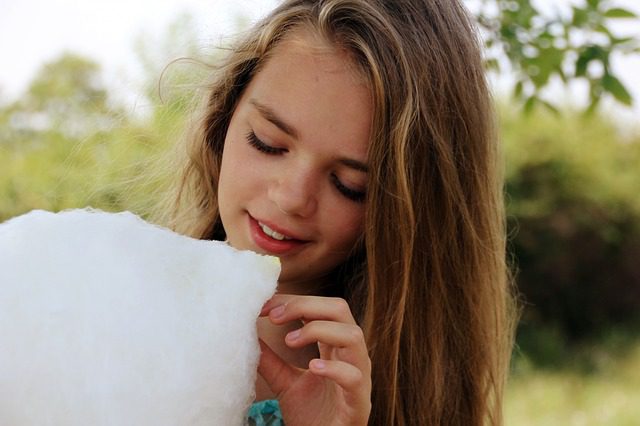 Tables and Chairs
Are you low on seating for your guests? Don't make them stand, just call Louie's Home Center. We have tables and chairs available for rent so all of your guests can feel comfortable.
Why Choose Louie's ACE Hardware For Your Party Rental Needs
Louie's ACE Hardware Home Center has always been there for you when you needed to make a home repair or had a question about which gardening tools are best. Not only do we provide ACE Hardware rentals but let us help you with your party planning too with ACE Hardware party rentals! We are open Monday through Sunday from 7 am to 7 pm, meaning you have access to party rentals 7 days a week! And don't feel stressed about having to pick up equipment and set it up alone because ACE has that covered too. You can either pick up in store or schedule delivery and set up at your desired location. Call and ask about our competitive pricing which includes all sales tax and has no additional fees. If you're looking to enhance your special event, give Louie's ACE Hardware Home Center a call at 775.423.7008!
When you're searching the aisles for the best product to use for your upcoming project, it's good to see a familiar brand in Nevada hardware. One that you already know and trust. When you're looking for a drill that is durable and built to last, you'll probably look at a Craftsmen or a Black and Decker. And if you want the best wood fire grill you'll most likely head straight for the Traegers. At Louie's, we're happy to share with you the quality national brands that you know and trust. 
Best Nevada Hardware Products to Use This Summer
Toro
Toro creates high-performance landscaping equipment ideal for homeowners. At Louie's Home Center, we carry various Toro lawn mowers, leaf blowers, and string trimmers that are perfect for maintaining your lawn and garden this summer. Summer is the perfect time to get your yard looking its best, and to get there you should use the best products to care for it.

Scotts 
One of the most popular brands of lawn food, soil, and weed control is Scotts. You've probably seen the name placed inside the green oval on their packaging in stores, and Louie's is proud to be one of them. If you're looking for a green and luscious looking lawn this summer, give Scotts brand products a try. 
Yeti 
If you want a cooler that can handle trekking through your summer adventures with you, then a Yeti cooler will be your go-to. Not only does this brand carry high-quality hard and soft coolers, they also make stainless steel, insulated thermoses, mugs and tumblers. You can depend on the durability of Yeti products, and you can pick up one of these coolers or tumblers right here at Louie's. 
Stihl
This is another brand that puts out high caliber products that you can count on. Stihl creates outdoor power equipment that will last throughout the seasons. At Louie's, we offer battery operated Stihl products that will not only keep your yard in tip top shape, but these battery powered items are more sustainable and environmentally friendly. From chainsaws to hedge trimmers, Stihl carries a wide variety of outdoor tools which will come in handy for the summer season.

Craftsman
Craftsman is a well known brand of hand and power tools. When you're looking for something reliable and durable, you may want to consider using a Craftsman tool. They have a wide variety of screwdrivers, hammers, saws, drills, and so much more. And you can now find Craftsman tools at Louie's Ace Hardware.
Get These Products Here, at Louie's Ace Home Center
At Louie's, we strive to provide our customers with the best hardware products and hardware rentals available. Whether it be for purchase or rent through ACE hardware rentals, our friendly employees are experts at finding the best brand for you. Whether you're concerned about your budget or have a specific product in mind, we can help you decide. Connect with Louie's Ace Home Center or view our products and hardware rentals today!
When it comes to taking on new DIY projects, timing is everything. It can make the difference between your project being a success or a total flop. For example, you wouldn't want to start renovating your landscaping if there was snow on the ground because it would cause too many problems. Like this scenario, you could be faced with many issues by choosing to tackle a DIY project at the wrong time. So, take a look below to see when the best time of the year is to start your next DIY job. 
Interior DIY Projects 
The time in which you take on interior projects isn't as dependent on weather inclemencies since your home shields you from the outdoors. However, weather can still affect interior projects in a variety of ways. For instance, tools or materials may cost less at a certain time of the year, and temperature often impacts the overall outcome of certain projects as well. So, take a look below at a few interior projects and suggestions for the best time to get them done.
Interior Painting: Fall/Early Winter
Interior painting can really be done at any time, but the fall and early winter are the best times to refresh your home's old indoor paint. Colder temperatures could help to cure your paint more quickly, but be weary of drastically low temperatures as they can affect the quality of the paint and prevent proper drying. Also, if you do decide you need some assistance, painting professionals are usually slower in the colder months and may even offer special deals during this time.
New Flooring: Spring    
When it comes to installing new flooring in your home, the spring is the best time to have it done. That's because hardwood floors don't react well to hot and humid climates. These types of environments can cause the wood finish to cure too quickly which results in the sheen drying improperly. Instead, try installing floors when it's a bit cooler out. 
Kitchen Updates: Summer
Kitchen updates such as painting, installing new cabinets, or redoing the countertops are best done in the summer months, but this may depend on your specific lifestyle. Because most people utilize their kitchens frequently during the holidays, winter isn't a good time to start a major kitchen renovation. However, summer may be a good time to do this because you're able to grill food outside and typically aren't limited to only being indoors. 
Exterior DIY Projects 
Exterior DIY projects need to be done during optimal weather conditions. If it's snowing, raining, or freezing outside, your project will likely be ruined by the poor weather. In order to prevent an avoidable disaster, try to plan exterior projects around your climate. So, take a look below to see when is the best time to take on various exterior projects. 
Deck: Early Winter 
In order to have your deck finished in time to use it for the spring season, you should start building it by early winter. Fortunately, if you do need some assistance, contractors are less busy during this time of the year and you may be able to save money on materials such as wood. Because it's generally pretty cold and wet during the winter months, most people don't enjoy being outside too much, so you also won't be disrupting any outdoor events you may have planned. And, believe it or not, the cold, cloudy weather you typically experience in early winter is perfect for helping pressure-treated wood dry and reduces the risk of warping or splitting.
Landscaping: Spring
You want to refresh your yard right before it gets too warm out. So, the best time to start a landscaping project where you plant shrubs, trees, plants, or grass, is in the spring. This will give your plants the best chance to grow and acclimate to their new environment. 
Exterior Painting: Summer
Exterior paint is best applied in the summer months. The type of paint used for the exterior of homes perform better when there is less temperature changes between night and day. This will allow for proper drying to occur and results in a better appearance. 
Get Prepared for Your DIY Project with Louie's Home Center
At Louie's Home Center, our expert staff members can easily help you find the right tools and hardware needed to complete your project. Here, we'll use our knowledge and experience to guide you in the right direction and get you through your project at each phase. Whether you're looking for the best hammer or the best power tool, our team is here to help. Connect with us today or shop our products to learn more! 
If you're getting ready to tackle a new DIY project or home renovation, you're going to need tools and hardware to get the job done. And while some tools such as hammers, screw drivers, and tape measures are commonly found in most homes, other, more complex tools such as jack hammers and tractors are much less common. Fortunately, hardware rentals are readily available to anyone who needs a specific tool but isn't ready to purchase their own yet. So, take a look below at some of the advantages of renting hardware as opposed to purchasing them, and check out some products you can rent for yourself!
Test Different Products
One of the biggest advantages of renting hardware tools is that you're able to test different products to ascertain which is most suitable for you and your project. Most hardware rentals offer a variety of brands and tool types so you can see which product you like best. Some tool brands may perform better than others and the best way to figure that out is to test it for yourself. Rather than purchasing hardware based on superficial facts you may have found online, you can now test out your favorite products first-hand. This is the most accurate way to determine whether or not you like a product and it could help save you money in the long run.  
Save Money
Renting hardware tools that you may not use very often can help you save money you may need for other supplies. If you're anticipating using a certain tool for just one or a few projects then it probably doesn't make much sense for you to purchase an expensive tool. Therefore, renting the equipment you seldom use maybe your best option. And if you do find an increased need for a certain tool, you can always purchase it when that time comes. But for now, hardware rentals make it easy for you to get your project done without spending a ton of money on a product you rarely use. 
Free Up Storage Space
While some tools are compact and can be easily hidden away until you're ready to use them, others are much larger and tend to take up more space. And paying for additional storage can be costly. So, for those of you who have limited storage space, hardware rentals may provide the solution you're looking for. They allow you to get your project done properly while also helping you keep your home clutter free.  

Experience No Hassle With ACE Hardware Rentals
At Louie's ACE Home Center, we offer a variety of hardware rentals that are available for daily, weekly, or monthly use. Whether you're looking to rent a tool for a simple one day project, or need the equipment for an extended amount of time, we can help. And our knowledgeable staff is always happy to help you determine which tool will be the most useful and effective for you to use. Contact us today and let us help you with your DIY project!
As the seasons change, you might realize you need a different look in your home. A room can lose its luster when it has old paint or wallpaper on it. A proper coat of paint can truly light up a room. This can pair with any style you might like and there are many fun things you can do with paint. For a first timer, things can get confusing which is why we composed a list of tips for painting walls.
Clean
You might not realize, but like anything else, walls can get dirty. In most cases, they are left without being cleaned for years (who has that kind of time). As you plan to create a new look in your home the first step is to wipe down those walls. You can remove dirt/lint/dust with a tack cloth. After grabbing a bucket, water, and a cleaner give your wall a well-deserved wipe down. Give your walls a chance to air dry by removing all outlet and light switch covers. Lastly, we don't want you to get anything on your furniture, make sure to cover anything and everything!
Find a Perfect Match
We all have different styles and ideas of how our houses should look. One of the most important tips for painting walls is making sure you get the right paint. Most hardware stores have services to match your paint. Along with getting the right color to know the difference between oil and water based paints, use denatured alcohol on a rag to wipe existing paint. If paint comes off on the rag the paint is water based. If there is no residue that comes off then you will have an oil based paint.
When you think about paint in a house I'm sure your first thoughts are different colors or plain neutral color. The last thing on your mind is about the different sheens incorporated into colors. This feature is actually very important for certain areas in your house. It either brightens and enhances how your wall looks, giving more detail (shinier sheen). Flat paint is good for a low traffic room such as bedrooms and hallways.
Rollers & Brushes
Paint is definitely needed in order to paint a house. However, the tools to apply the product are also extremely important. Having quality materials can help decrease streaks and help apply a smoother finish. When buying your materials, it is better to buy more. The reason is you will spend less time cleaning rollers and less money on running water. If you need a break once you start painting, cover your brush or roller with plastic bags and keep them in the fridge. This will keep the paint fresh and ready to use once you start your project again. Once the project is finally finished, store your brushes in a plastic baggie. This way the next time you use them they won't be dried out.

Paint Tips
Don't be fooled, taking on a painting project can be exciting. However, it is a long process and knowing some tips for painting walls will help make this adventure a little easier. First, use low odor and VOC (Volatile Organic Compound) paints for a safer environment for you and your family. When you finally choose a color make sure to use contrasting trims to make the room pop. Also, if you are using dark paints make sure you let the wall dry for 6 hours between coats. This way you won't rewet the paint causing streaks and patches to happen during your next coat. Lastly, make sure to save some of your paint for future touch-ups throughout your house. 
Contact Louie's ACE Hardware
Looking for a paint match or materials in order to paint your home? Check out Fallon's local hardware store, Louie's Ace Hardware. We will have everything you need to get you started on your next project! We offer ACE hardware rentals such as paint sprayers and fixture sprayer rentals for your painting project.
Whether you are looking for a bounce house or cotton candy machine for your child's birthday party, or tables and chairs for your next big family gathering, the last place you may think to look is your local ACE Home Center. Although we do offer ACE hardware rentals, we offer ACE hardware party rentals as well.
But, there is a little known secret to throwing any kind of party in and around Fallon. Louie's ACE Home Center is more than a hardware store. We offer ACE hardware rentals and ACE hardware party rentals. It has tents, bounce houses, tables, chairs, and even cotton candy machines to rent. Locals know Louie's as the best place to get rentals in Fallon.
You can plan a party on budget when you go to Louie's ACE Home Center for your party rental needs. Here are just a few creative ways you can use party rentals to add happiness to any type of gathering.
Have a Ball with Bounce Houses
Bounce Houses are lots of fun. But, did you know adults can enjoy them too? Consider adding a bounce house to your company event and giving adults permission to jump. At Louie's ACE Home Center, you can find bounce houses that are rated for all ages fun.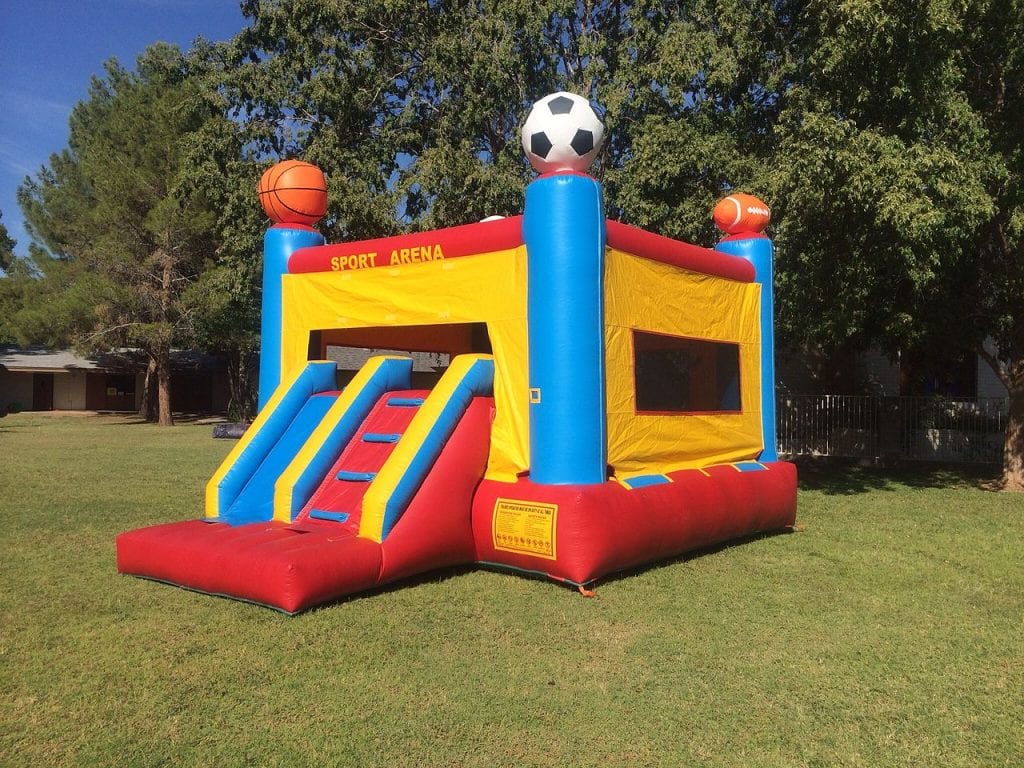 Tents for Chillier Days
The temperature is dropping, but that doesn't end your ability to have an outdoor event. Tents with walls hold heat well. Or, place the tent against a structure during the day for shade and residual warmth.
Sit Comfortably with Our Tables and Chairs
Tables and chairs can be used year-round. Expand your indoor space by adding tables and chairs in your living room for Thanksgiving dinner. Or, pair up tables and chairs with one of our tents for a comfortable fall outdoor luncheon.
Cotton Candy Machines: Cotton candy machines make great party additions. They are also good for fundraisers. School is back in session and your fall fundraiser could include delicious cotton candy with one of the machine rentals from Louie's ACE Home Center.
So, you see, there are many creative uses for ACE hardware party rentals and you can get all of them at Louie's ACE Home Center in Fallon. We have also expanded our party department to include balloons, pinatas, tablecloths, napkins, plates, and much more!
Let our party team help you plan your next event!
The first snowflakes of the year have fallen and, if you haven't begun winterizing your sprinkler system, you need to. Split or ruptured pipes can cost you hundreds if not thousands of dollars to repair.
We have put together some easy, step-by-step instructions on how you can winterize your sprinkler system yourself. We recommend the same technique used in the northeast, the blow out method, for winterizing a sprinkler system.
This method gets all the water out of the lines and is an easy and effective way to winterize. You can get all the parts for this do-it-yourself project at Louie's ACE Home Center.
Step one: Get an air compressor
Use an air compressor with an 80 to 100 cubic foot per minute (CFM) rating. Make sure the sprinkler system you want to winterize has a mainline for water of 2-inches or less. You can purchase an air compressor, or rent one from our ACE hardware rentals. We have all the hook ups as well.
Step two: Locate the connections
Locate the air hose connections. Make sure you use a connection located after the PVB back flow preventer. In the Fallon area, homes built in the last 15-20 years have a back-flow preventer on the sprinkler system. If you don't have one, crack the pipe and the sprinkler valve and connect the air hose there to assist you in winterizing the sprinkler system.
Step three: Get the appropriate attachments
You can make your own attachment (a jig) and connect it to your irrigation system. We can help you locate the parts and make it. Jigs are made with a washing machine hose, cut to 18 inches, a quick coupling, and a threaded to bared connector to combine the coupling and the hose. Screw it into the existing hose bib.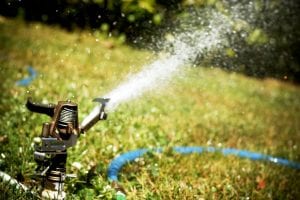 Step four: Shut off the water supply
Trace the pipe back or locate the main water meter for your house. Make sure no new water can flow into the lines.
Step five: Drain the inside and outside water lines
Most systems have a drain plug or sill cock drain. Open the valve and drain it into a bucket. Allow the pipe to drain completely. Go outside and close the back-flow isolation valves. Open and drain the test cocks on the PVB.
Step six: Attach the compressor
Keep the valves closed and attach the air compressor hose to the fitting. DO NOT run a compressor with an open valve. It can lead to a damaged zone valve gate.
Step seven: Turn on the zones one by one and blow out
Start with the zone which is highest in elevation and furthest from the compressor and turn it on. Blow out each zone for two minutes. Do this until no water can be seen coming out of the heads. Repeat the process until it is dry.
Step eight: Disconnect the air compressor.
Disconnect the air compressor and release any air pressure from the lines. Open and drain all test cocks on the PVB to make sure no water is left inside.
Step nine: Open and close the isolation ball valves on the PVB back-flow device.
You do this to ensure any trapped water is gone from the upper areas of your system. Turn and leave these valves at a 45-degree angle to complete winterizing your sprinkler system.
Step ten: Return the equipment.
If you rented the compressor from our ACE hardware rentals, don't forget to return it in a timely manner so someone else can use it to winterize their sprinkler system. Happy winterizing!
Imagine spring cookouts, breezy air, and a lush, green lawn to enjoy it all on. In Fallon, Nevada, keeping a nice lawn can take a lot of work. Unlike other climates, it takes the use of sprinklers and regular upkeep to keep your grass bright and vibrant. With that comes regular maintenance, especially after the winter season.  Luckily, at Louie's Ace Hardware, we have all of the lawn care hardware rentals that you need to have the yard that you've been dreaming of.
Thatching
After the long winter, thatch can build up and prevent your grass from looking its best. When the dead grass that gets stuck between living grass and the soil is not able to receive proper air, water, and nutrients, your lawn can look less than stellar. At Louie's Ace Hardware, we carry all the lawn care hardware rentals you need to remove thatch and restore your lawn to its prime.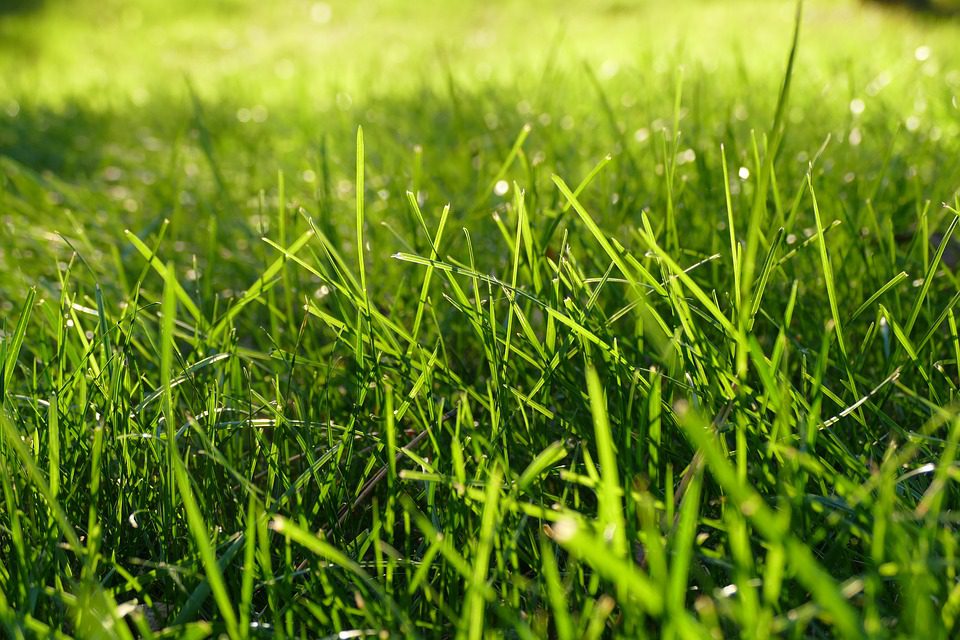 Aerating
It's that time of the year again! Time to aerate your lawn to allow air, water, and nutrients to get to get to the grass roots. If you're lawn is looking dead and colorless, this is a great way to alleviate soil compaction. In dryer climates like Nevada, aerating can save your lawn. Stop by our hardware rentals department for all the equipment you need to get your lawn looking in tip-top shape!
Rototiller
Wedding or digging a garden by hand can be tedious and time consuming. That's where a rototiller comes in hand. These handy tools can make gardening a breeze. We carry them as a rental item, so that you can have the added convenience without the pressure to store them throughout the year.
Lawn Roller
A lawn roller can be great for erasing damage caused to your lawn throughout the winter. You can flatten ant and mole hills quickly, and make your lawn look flawless.
There's nothing that says spring more than a lush lawn. So what are you waiting for? Stop by to check out our ACE hardware rentals you may need for your lawn and garden this season. We make lawn care and other hardware rentals easy and affordable, and our knowledgeable and friendly staff are ready to assist you. Want to inquire about our hardware rentals? Give us a call. We hope to see you soon!