Spray paint comes in a variety of colors making it a fun and versatile choice for your next at-home project. Whatever your goal is for taking on a new DIY project, spray paint can help bring just about anything to life with the right idea. Louie's ACE Home Center has a huge selection of products ready to assist you with your next indoor or outdoor task.
Below we put together a list of our favorite DIY spray paint projects that will keep you entertained for most of 2022.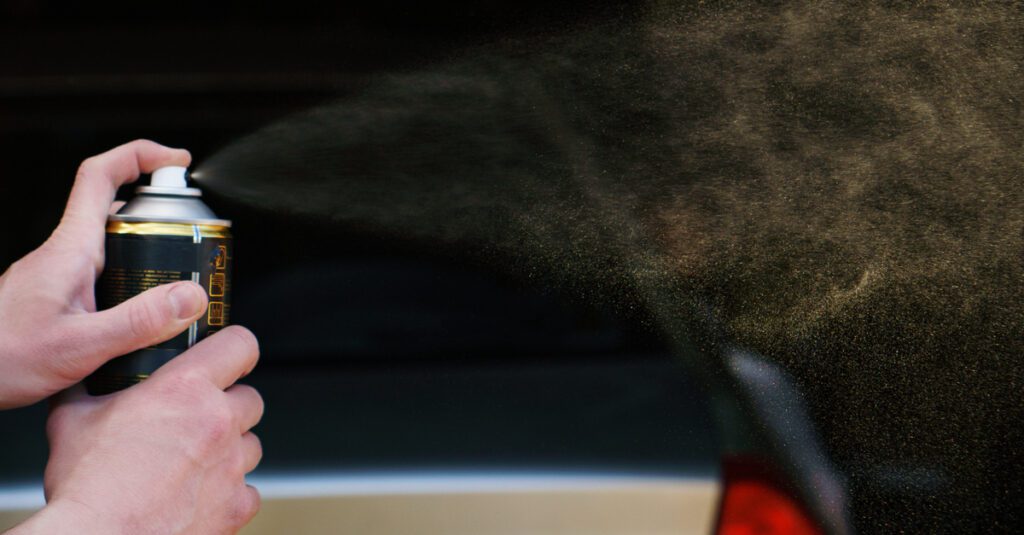 1. Spray Paint Terra Cotta Pots
If you consider yourself a plant enthusiast, you already know that terra cotta pots are the best choice for keeping your plants alive. Unfortunately, the color choices available for terra cotta pots tend to be slim picking, making this a great DIY project for any plant lover.
Pick out an affordable terra cotta pot, choose your favorite mix of spray paint colors, and head to your local ace store to rent a paint sprayer. Then you are ready to begin livening up your item.
2. Mason Jar Organizers
Spray paint the outside of your mason jars to create a new exciting look for this simple item. Mason jars add a chic rustic look to any space and can be used to store your small home necessities. The endless amount of colors obtainable gives you the option to spray your jars with a solid color for more privacy or add a semi-translucent, frosted finish for a pop of color. Check out some more unique uses for mason jars here.
3. Faux Galvanized Metal Tubs
This next project is a great addition to your next social gathering. It is easy to find a range of sizes for plastic bucket containers at an affordable price. Easily upgrade this item to have a more industrial design with metal spray paint cans. After they dry, you can fill your new faux galvanized metal tubs with ice and beverages. This affordable project helps you create the perfect DIY beverage holder for your next house party.
If that doesn't seem useful, use these newly repurposed plastic containers to organize your bathroom. Depending on the size, you can fill them with hand towels or bath towels adding an urban-chic look to any space. Feel free to liven up the piece by surrounding it with a few candles. No one will ever guess these are faux!
4. Spray Paint Rock Bookends
No matter where you live, there is typically an abundance of rocks found outdoors. After finding two sturdy-looking rocks, upgrade their raw look with one easy fix. You can use Ace Hardware's gold and silver metallic spray paint to quickly modernize this natural element in your home. After the paint dries, glue thin cork stoppers to the bottom, and there you have it, metallic rock bookends.
Don't stop the fun there! Find small rocks and spray paint them to add a little organic sparkle to your office. These small metallic rocks act as a great paperweight or even a fancy desk accessory.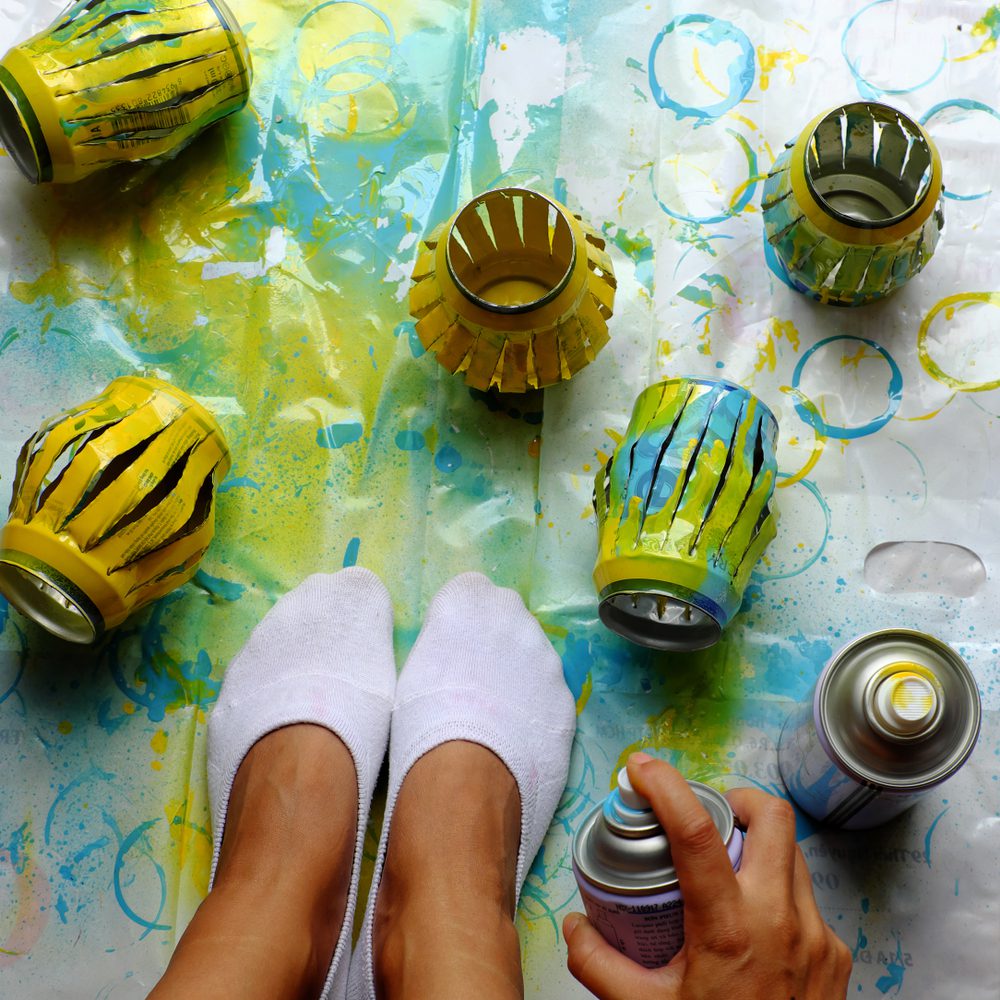 5. Tire Dog Bed
If you are a dog lover, this next one is for you. Whether you work from home or go into the office each day, your furry friend probably spends most of that time sleeping. Keep them cozy, while they wait for you to play with this easy-to-make tire bed.
Simply repurpose an old tire by stopping by Louie's ACE Hardware and renting a paint sprayer. This tool will help you finish fast. Pick out your favorite color and get to work spraying. After the tire dries, you can add an oversized pillow to the hollow center, and easily make your fur friend a new comfortable spot to lounge around.
6. Lego Head Jars
Here is another fun mason jar project to help keep you (and your little one) organized. Spray paint the exterior of any size mason jar yellow. After, use a permanent marker to make fun lego faces. This is a perfect way to store legos or other small toys that always seem to get lost at the bottom of your toy chest.
7. Redesign Chair and Stools
Tired of your dining room set? Energize any room with a new look. This project is another chance for you to try out our paint sprayer rental. Make sure you mask and cover any fabric showing on your chairs. Afterward, you can use the new paint sprayer rental you picked up at your local Ace Hardware store and quickly rejuvenate your dining set. Paint sprayers are also great at rejuvenating old stools or outdoor furniture you might have that seems bland.

Louie's ACE Hardware Rentals
Come down to Louie's ACE Home Center and let us help you with your next at-home project. We offer a variety of Hardware rentals, including hand held paint sprayers, to help you take on any project. Our friendly staff can help guide you in the right direction to help save time and money on your next project. Visit our website to see all the affordable indoor and outdoor hardware rentals we have to offer.
DIY projects have become increasingly popular among people of all ages and skill levels. There's nothing like the feeling you get after completing a task that you worked hard to finish. And not only are hands-on DIY activities fun, but they also provide added benefits for your mind, body, and even your wallet. Here are some benefits of DIY projects that may get you excited about tackling your next project all on your own.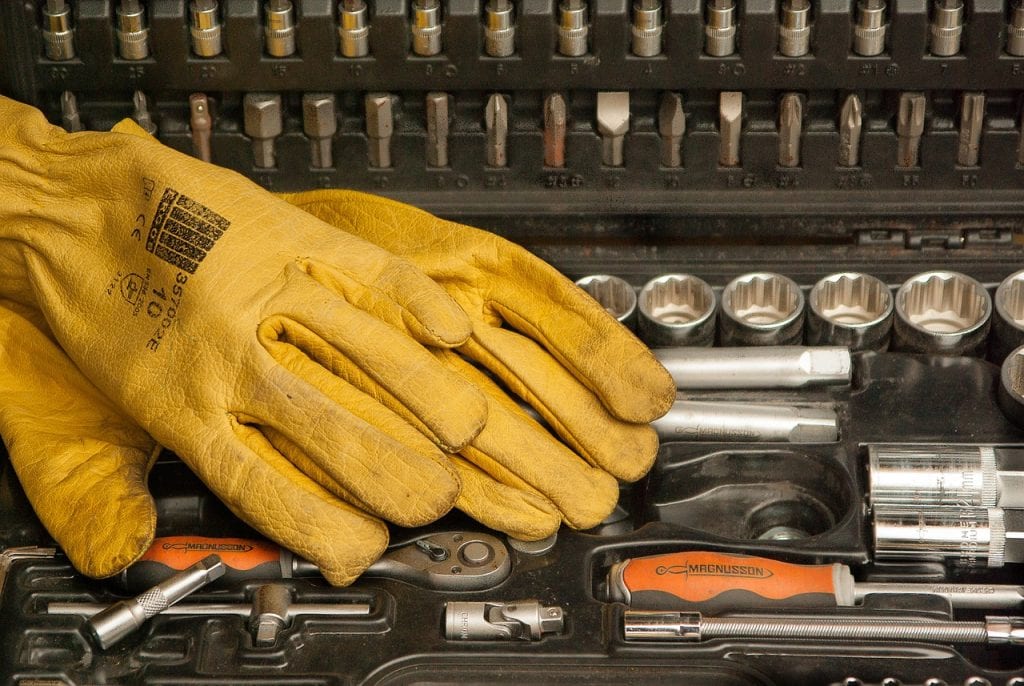 Help Reduce Stress and Improve Your Mood
Being engaged in a DIY project can give you a sense of pleasure and satisfaction. Finishing a DIY project can help you feel accomplished and happy with your hard work and dedication, and leaves you with something you can be proud to show off. A 2016 study done by Occupational Therapy International showed that participants of the study who took part in creative activities, including DIY projects, felt a boost in mood and happiness. 
Another benefit DIY projects can have on your mental health is that it helps reduce stress and anxiety. Focusing on a hands-on project can help you disengage from any life stressors you may be facing. Some even consider DIY projects to be "meditative". This comes from the similarities people feel between hands-on projects and meditation such as deep concentration and heightened awareness. 
Teaches You a New Skill 
Diving right into a DIY project can provide you with an opportunity to learn a new skill and sharpen your mind. Because DIY projects require you to use your hands, you'll be able to learn new techniques and methods to put something together. This could also help you with future projects and you can even teach others how to use those skills as well. And if you find that you really enjoyed the activity, you can turn it into a fun hobby or even sell your work.

Allows You to Spend More Time with Family
DIY projects are a great way to spend more time with your family. Kids will not only feel involved, but will also be learning new things as well. And having some helping hands could make the project go more smoothly, and will speed up the process to give you a finished product sooner than anticipated. Quite often families will form strong bonds while working on hands-on projects together that you can't get from other activities. 
Helps Save You Money
This benefit is fairly self-explanatory, but you'll end up saving money by working on projects yourself as opposed to paying someone else to it. You'll also be able to add personal touches that professionals wouldn't normally include. Not only do you get to save money on labor by putting something together yourself, but you'll also feel a sense of pride and accomplishment from doing it yourself.
Allows You to be More Active
Some DIY projects require some manual labor, but this can actually be a great form of exercise for some. It can be more fun than going to the gym, and you'll be rewarded in the end with a finished product created all on your own. Imagine the sweat you'll work up from ripping out the floors in your home or even repainting an entire room. And if you need to keep the exercise to a minimum, you can find more simple DIY projects to take part in.
Connect with the Experts at Louie's ACE Hardware
There's no better place to get DIY advice other than Louie's Ace Hardware. Their team will not only help you find the right items  to use for your project, but they can also provide you with insider tips and knowledge to help your project go more smoothly. Louie's ACE Home Center has an extensive selection of hardware tools and equipment to buy or rent that are essential to any DIY project. Now that you know the benefits of DIY projects, see how Louie's products and knowledgeable team will help benefit your next project. Connect with us today!
When it comes to taking on new DIY projects, timing is everything. It can make the difference between your project being a success or a total flop. For example, you wouldn't want to start renovating your landscaping if there was snow on the ground because it would cause too many problems. Like this scenario, you could be faced with many issues by choosing to tackle a DIY project at the wrong time. So, take a look below to see when the best time of the year is to start your next DIY job. 
Interior DIY Projects 
The time in which you take on interior projects isn't as dependent on weather inclemencies since your home shields you from the outdoors. However, weather can still affect interior projects in a variety of ways. For instance, tools or materials may cost less at a certain time of the year, and temperature often impacts the overall outcome of certain projects as well. So, take a look below at a few interior projects and suggestions for the best time to get them done.
Interior Painting: Fall/Early Winter
Interior painting can really be done at any time, but the fall and early winter are the best times to refresh your home's old indoor paint. Colder temperatures could help to cure your paint more quickly, but be weary of drastically low temperatures as they can affect the quality of the paint and prevent proper drying. Also, if you do decide you need some assistance, painting professionals are usually slower in the colder months and may even offer special deals during this time.
New Flooring: Spring    
When it comes to installing new flooring in your home, the spring is the best time to have it done. That's because hardwood floors don't react well to hot and humid climates. These types of environments can cause the wood finish to cure too quickly which results in the sheen drying improperly. Instead, try installing floors when it's a bit cooler out. 
Kitchen Updates: Summer
Kitchen updates such as painting, installing new cabinets, or redoing the countertops are best done in the summer months, but this may depend on your specific lifestyle. Because most people utilize their kitchens frequently during the holidays, winter isn't a good time to start a major kitchen renovation. However, summer may be a good time to do this because you're able to grill food outside and typically aren't limited to only being indoors. 
Exterior DIY Projects 
Exterior DIY projects need to be done during optimal weather conditions. If it's snowing, raining, or freezing outside, your project will likely be ruined by the poor weather. In order to prevent an avoidable disaster, try to plan exterior projects around your climate. So, take a look below to see when is the best time to take on various exterior projects. 
Deck: Early Winter 
In order to have your deck finished in time to use it for the spring season, you should start building it by early winter. Fortunately, if you do need some assistance, contractors are less busy during this time of the year and you may be able to save money on materials such as wood. Because it's generally pretty cold and wet during the winter months, most people don't enjoy being outside too much, so you also won't be disrupting any outdoor events you may have planned. And, believe it or not, the cold, cloudy weather you typically experience in early winter is perfect for helping pressure-treated wood dry and reduces the risk of warping or splitting.
Landscaping: Spring
You want to refresh your yard right before it gets too warm out. So, the best time to start a landscaping project where you plant shrubs, trees, plants, or grass, is in the spring. This will give your plants the best chance to grow and acclimate to their new environment. 
Exterior Painting: Summer
Exterior paint is best applied in the summer months. The type of paint used for the exterior of homes perform better when there is less temperature changes between night and day. This will allow for proper drying to occur and results in a better appearance. 
Get Prepared for Your DIY Project with Louie's Home Center
At Louie's Home Center, our expert staff members can easily help you find the right tools and hardware needed to complete your project. Here, we'll use our knowledge and experience to guide you in the right direction and get you through your project at each phase. Whether you're looking for the best hammer or the best power tool, our team is here to help. Connect with us today or shop our products to learn more!