Spring is finally here which means we're about to experience warm weather and a lot of sunlight. This is the time when flowers and plants are coming into full bloom and life is starting anew. However, it does take a bit of work to get your garden going again after a long, cold winter and it's not too late to plant a beautiful garden you can enjoy. All you need are your gardening products, a good area to plant, and some tender loving care. 
Make this spring and summer beautiful with an array of different plants and greenery that are easy to care for when you get help from Louie's ACE Hardware store! Take a look below at some of the gardening supplies you'll need to keep your lawn and garden in tip-top shape.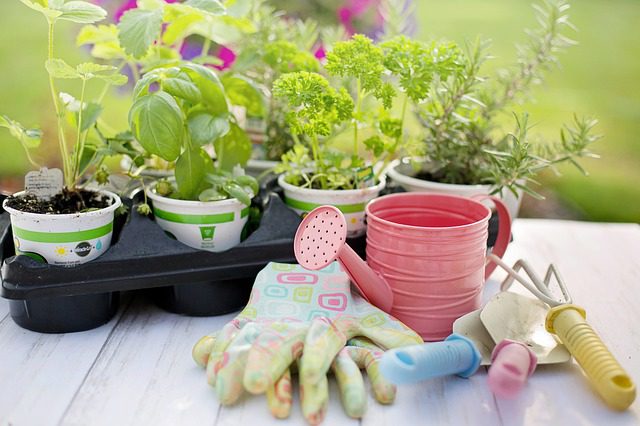 Must-Have Gardening Products 
Having quality gardening supplies will make caring for your yard much easier and more effective. If you have the right materials you will be able to go much further in your hobby. Some of the basic tools and products you might need include a spade, rake, garden knife, pruners, and shovel. These are just a few of the basic essentials you'll need but you might consider purchasing other gardening products to make life even easier. Some of the additional tools or gardening products you may want to include in your collection are:
Padded Kneeler 
Padded kneelers are used to provide protection for your knees when working on the ground. There are a few options regarding these products such as a kneeler that turns into a little bench you can sit at or memory foam mats. 
3-Way Meter
The 3-way meter will become your saving grace when it comes to diagnosing problems within your garden. This invention tells you exactly everything you need to know about your plants and allows you to quickly fix anything that might be bad for your garden. You'll get feedback on PH levels, light intensity, and soil moisture. 
Drip Kit 
A garden drip kit is crucial for the busy or forgetful homeowner who doesn't always stay current with the watering schedule. If you don't feel like going out every day to water your plants or don't always have the time, having a drip kit is for you. 
Chemical-Free Weeder
Sometimes it is easier not to get down and dirty, which is where this invention comes in handy. With a chemical-free weeder, all you have to do is spike the ground where the weed is and pull it out. Not only is this better for you and the environment, but it's super simple and quick. 
Tool Belt
Do you struggle to carry all of your garden supplies while working in the yard? You're not alone, which is why there's the tool belt. Easily tote around your gardening tools with a tool belt you can simply clip around your waist. 

Fertilizer, Soil, and Weed Control
Some of the most important gardening products you'll need are fertilizer, soil, and weed control. Having the proper gardening tools to prepare the earth for new life is important, but so is the environment in which they live. Fertilizer is used to provide nourishment and nutrients to your plants while gardening soil is used to ensure your plants have a fresh bed to lay in. And weed control will prevent encroaching and unwanted plants from taking over the garden area.  
Tips For Starting a Garden 
Now that you know what type of gardening products you'll need, here are a few tips to get you on your way. To start, you'll want to stop by the ACE hardware store to pick up all of the tools and materials you need. Then, plan the layout of your garden along with the plants you want to include. Here's how you can start your garden this spring:
Step 1
First, find the perfect location to set up your garden. Decide if you want a regular yard garden or if you want a raised bed garden. This is important because there are different soils for each type. Also, make sure that the site you decide on gets plenty of sun and water. Just like us, plants need these things to survive and grow beautifully. 
Step 2
You'll also want to make sure you understand what plants will work for the climate you are living in. Better to not waste your time and energy on a plant that won't grow where you live. The USDA provides a plant hardiness zone map that will help you determine which plants are most likely to grow and thrive in your area. 
Step 3
Now that you have your gardening tools, have chosen the plants you want to feature in your garden, and have a layout of what the area is going to look like, you're ready to build the garden bed. You'll need proper soil and some mulch to complete this. Many consider using raised garden beds because they offer a wide variety of benefits that lowered beds do not. 
Step 4
Plant your seeds or seedlings very carefully as they can be quite delicate. After your seeds have been planted, you're ready to start caring for your new garden. Be sure to keep the soil moist, but not soggy. Plants love water, but even too much of a good thing can have poor results. 
Step 5 
Use your gardening tools and products to maintain your garden throughout the spring and summer! Gardening requires a lot of work and a lot of love, so be sure to tend to your garden as needed! 

Stop By Your Local ACE Hardware Store
We hope these gardening tips were helpful for you! If you're in need of any gardening products, be sure to check out Louie's ACE Hardware store for more tools and supplies. We also offer ACE hardware rentals for your lawn care needs such as batchers, aerators, high-weed mowers, and weed whackers. Give us a call today for some of our expert spring gardening tips or to learn more about the gardening products we offer!