Spray paint comes in a variety of colors making it a fun and versatile choice for your next at-home project. Whatever your goal is for taking on a new DIY project, spray paint can help bring just about anything to life with the right idea. Louie's ACE Home Center has a huge selection of products ready to assist you with your next indoor or outdoor task.
Below we put together a list of our favorite DIY spray paint projects that will keep you entertained for most of 2022.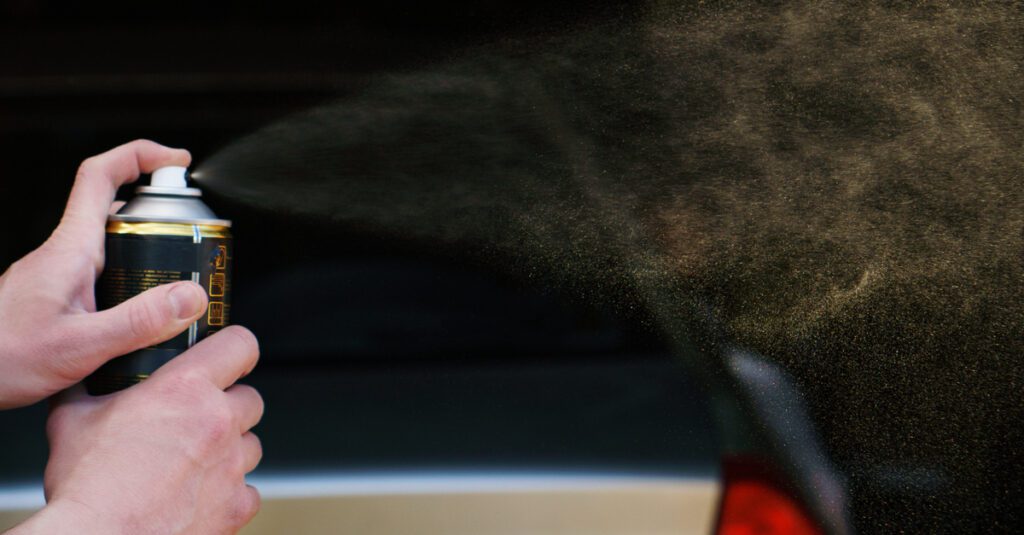 1. Spray Paint Terra Cotta Pots
If you consider yourself a plant enthusiast, you already know that terra cotta pots are the best choice for keeping your plants alive. Unfortunately, the color choices available for terra cotta pots tend to be slim picking, making this a great DIY project for any plant lover.
Pick out an affordable terra cotta pot, choose your favorite mix of spray paint colors, and head to your local ace store to rent a paint sprayer. Then you are ready to begin livening up your item.
2. Mason Jar Organizers
Spray paint the outside of your mason jars to create a new exciting look for this simple item. Mason jars add a chic rustic look to any space and can be used to store your small home necessities. The endless amount of colors obtainable gives you the option to spray your jars with a solid color for more privacy or add a semi-translucent, frosted finish for a pop of color. Check out some more unique uses for mason jars here.
3. Faux Galvanized Metal Tubs
This next project is a great addition to your next social gathering. It is easy to find a range of sizes for plastic bucket containers at an affordable price. Easily upgrade this item to have a more industrial design with metal spray paint cans. After they dry, you can fill your new faux galvanized metal tubs with ice and beverages. This affordable project helps you create the perfect DIY beverage holder for your next house party.
If that doesn't seem useful, use these newly repurposed plastic containers to organize your bathroom. Depending on the size, you can fill them with hand towels or bath towels adding an urban-chic look to any space. Feel free to liven up the piece by surrounding it with a few candles. No one will ever guess these are faux!
4. Spray Paint Rock Bookends
No matter where you live, there is typically an abundance of rocks found outdoors. After finding two sturdy-looking rocks, upgrade their raw look with one easy fix. You can use Ace Hardware's gold and silver metallic spray paint to quickly modernize this natural element in your home. After the paint dries, glue thin cork stoppers to the bottom, and there you have it, metallic rock bookends.
Don't stop the fun there! Find small rocks and spray paint them to add a little organic sparkle to your office. These small metallic rocks act as a great paperweight or even a fancy desk accessory.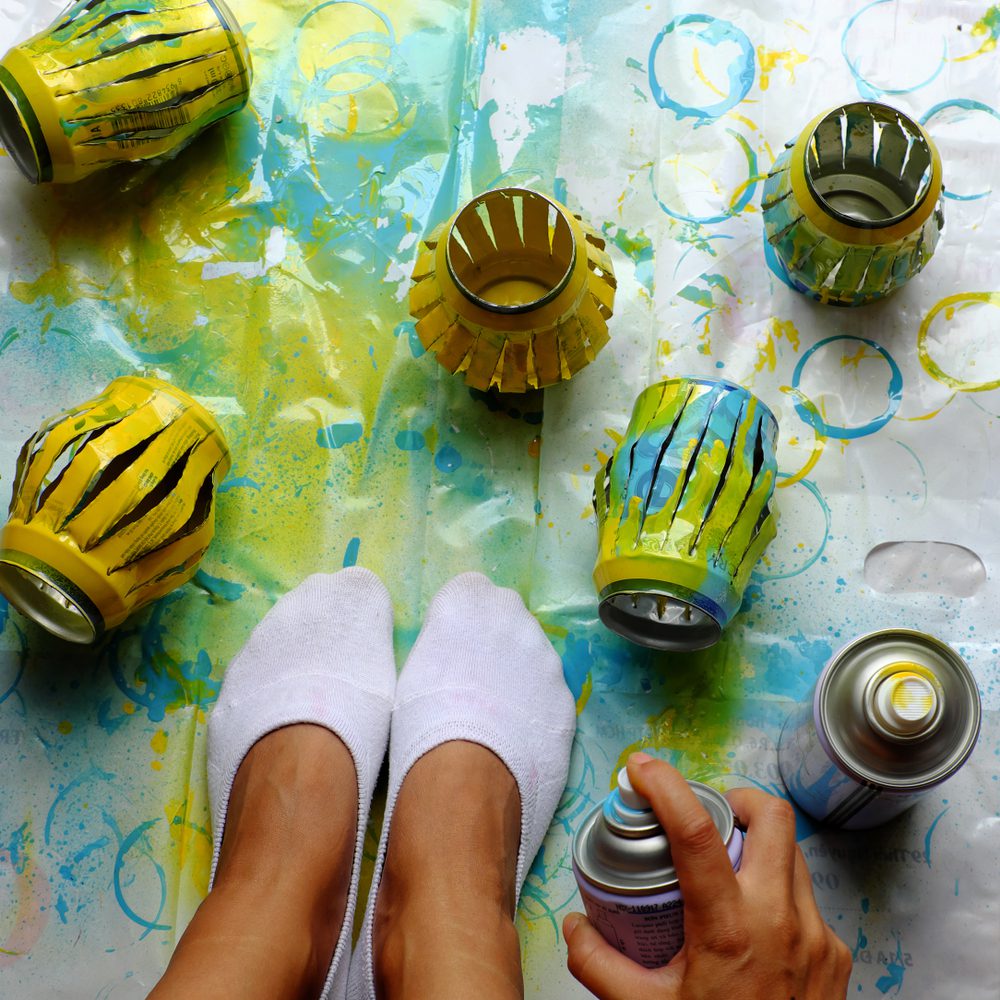 5. Tire Dog Bed
If you are a dog lover, this next one is for you. Whether you work from home or go into the office each day, your furry friend probably spends most of that time sleeping. Keep them cozy, while they wait for you to play with this easy-to-make tire bed.
Simply repurpose an old tire by stopping by Louie's ACE Hardware and renting a paint sprayer. This tool will help you finish fast. Pick out your favorite color and get to work spraying. After the tire dries, you can add an oversized pillow to the hollow center, and easily make your fur friend a new comfortable spot to lounge around.
6. Lego Head Jars
Here is another fun mason jar project to help keep you (and your little one) organized. Spray paint the exterior of any size mason jar yellow. After, use a permanent marker to make fun lego faces. This is a perfect way to store legos or other small toys that always seem to get lost at the bottom of your toy chest.
7. Redesign Chair and Stools
Tired of your dining room set? Energize any room with a new look. This project is another chance for you to try out our paint sprayer rental. Make sure you mask and cover any fabric showing on your chairs. Afterward, you can use the new paint sprayer rental you picked up at your local Ace Hardware store and quickly rejuvenate your dining set. Paint sprayers are also great at rejuvenating old stools or outdoor furniture you might have that seems bland.

Louie's ACE Hardware Rentals
Come down to Louie's ACE Home Center and let us help you with your next at-home project. We offer a variety of Hardware rentals, including hand held paint sprayers, to help you take on any project. Our friendly staff can help guide you in the right direction to help save time and money on your next project. Visit our website to see all the affordable indoor and outdoor hardware rentals we have to offer.
When you're searching the aisles for the best product to use for your upcoming project, it's good to see a familiar brand in Nevada hardware. One that you already know and trust. When you're looking for a drill that is durable and built to last, you'll probably look at a Craftsmen or a Black and Decker. And if you want the best wood fire grill you'll most likely head straight for the Traegers. At Louie's, we're happy to share with you the quality national brands that you know and trust. 
Best Nevada Hardware Products to Use This Summer
Toro
Toro creates high-performance landscaping equipment ideal for homeowners. At Louie's Home Center, we carry various Toro lawn mowers, leaf blowers, and string trimmers that are perfect for maintaining your lawn and garden this summer. Summer is the perfect time to get your yard looking its best, and to get there you should use the best products to care for it.

Scotts 
One of the most popular brands of lawn food, soil, and weed control is Scotts. You've probably seen the name placed inside the green oval on their packaging in stores, and Louie's is proud to be one of them. If you're looking for a green and luscious looking lawn this summer, give Scotts brand products a try. 
Yeti 
If you want a cooler that can handle trekking through your summer adventures with you, then a Yeti cooler will be your go-to. Not only does this brand carry high-quality hard and soft coolers, they also make stainless steel, insulated thermoses, mugs and tumblers. You can depend on the durability of Yeti products, and you can pick up one of these coolers or tumblers right here at Louie's. 
Stihl
This is another brand that puts out high caliber products that you can count on. Stihl creates outdoor power equipment that will last throughout the seasons. At Louie's, we offer battery operated Stihl products that will not only keep your yard in tip top shape, but these battery powered items are more sustainable and environmentally friendly. From chainsaws to hedge trimmers, Stihl carries a wide variety of outdoor tools which will come in handy for the summer season.

Craftsman
Craftsman is a well known brand of hand and power tools. When you're looking for something reliable and durable, you may want to consider using a Craftsman tool. They have a wide variety of screwdrivers, hammers, saws, drills, and so much more. And you can now find Craftsman tools at Louie's Ace Hardware.
Get These Products Here, at Louie's Ace Home Center
At Louie's, we strive to provide our customers with the best hardware products and hardware rentals available. Whether it be for purchase or rent through ACE hardware rentals, our friendly employees are experts at finding the best brand for you. Whether you're concerned about your budget or have a specific product in mind, we can help you decide. Connect with Louie's Ace Home Center or view our products and hardware rentals today!
Being a homeowner is a job in itself. Homes require regular maintenance in order to properly function and provide the protection you need. Luckily, keeping a routine of regular maintenance can help ease the workload throughout the year. Here's our helpful home maintenance checklist to help ensure you don't miss a thing.

Regular Maintenance 
These are home improvements that can be done at any time of the year and should be done regularly to ensure they remain functioning properly. Be sure to check these things between every month and every few months. 
Check the furnace filter and replace if necessary. Replacing furnace filters that have dust build-up will help the furnace work more efficiently and improve heat and energy bills. 

Check to make sure that outdoor and indoor air vents are not blocked. 

Drain hot water from the water heater to flush out sediment build up.

Grind up ice cubes in the garbage disposal, followed by hot water and baking soda to clean the garbage disposal. 

Test smoke alarms, carbon monoxide detectors, and fire extinguishers. Replace batteries in smoke alarms and carbon monoxide detectors when necessary. 

Inspect tub and sink drains for clogs. Unclog them if necessary.

Vacuum lint from dryer vent.

Seasonal Fall Maintenance
Fall is a great time to take on general home maintenance projects because of the moderate temperatures and dry weather. Start your home maintenance checklist by first inspecting the interior and exterior of your home, then, get started. Here are some things you can do to help prepare your home for the colder weather:
Remove leaves and debris from gutters and downspouts.

Drain and insulate exterior plumbing before winter.

Drain and store hoses along with in-ground sprinkler systems. 

Wrap insulation around outdoor faucets and pipes in unheated garages/basements. 

Rake leaves, aerate lawn, plant seeds. September and October are the best fall months to start growing new grass because it isn't too hot or too cold out. 

Check masonry and mend cracks and gaps in the driveway and walkway. 

Check exterior door hardware and fix any squeaky handles or loose locks.

Inspect roofing for missing, loose, or damaged shingles and for any leaks. 

Repair or replace exterior siding.

Check fireplace for damage and clean the fireplace flues. Have a professional inspect your fireplace for hazards. 

Have a professional inspect heating systems.   

Vacuum refrigerator and freezer coils and empty and clean drip trays.

Trim tree limbs. Damaged limbs, or limbs that are close to your home and could cause damage or is causing damage.

Seasonal Winter Maintenance
It's important that you adequately prepare for the winter season. The last thing you want happening is a burst pipe or a heating unit that doesn't work properly. Here's a list of things you'll want to check before the cold weather takes over:
Cover your air conditioning unit.

Protect your patio furniture by covering it or moving it to a covered space.

Get a humidifier to improve your home's air quality during the dry season.

Reverse ceiling fans so that they circulate clockwise. 

Seal cracks and gaps in windows and doors with caulk or weather stripping. 

Check that air vents are not blocked.

Stock up on salt and sand in case of severe weather and snow storms.

Seasonal Spring Maintenance
This is the perfect time to get your home back to looking its best. Hopefully by this time the weather has calmed down and you can get your home back in order. It's time to welcome the warmer weather and prepare your home for the heat. Use this spring home maintenance checklist as a guide:
Remove the cover you placed over your air conditioning unit and replace the filter.

Again, you'll want to check for any damaged, missing, or loose roof shingles and for leaks. The harsh winter weather can cause damage to the roof easily, so be sure to check this and have necessary repairs made promptly.

Clean window and door screens.

Remove insulation from outdoor faucets and exterior plumbing.

Inspect sprinkler heads.

Plant grass seed, fertilize and aerate your lawn. Spring is also a good time to get this done because the weather isn't too hot or too cold. 

Clean out gutters and downspouts of debris and leaves. 

Polish wood furniture and dust light fixtures.

Inspect your home's windows and doors for caulking or weather stripping that may need to be replaced.

Check air vents and make sure they are clear. 

Have a professional inspect the septic tank and perform any work that may be necessary.

Check your chimney for damage.

Seasonal Summer Maintenance
You want to do as much maintenance as you can before summer really hits so you can make the most out of the hot weather and long days. Most of the necessary home improvement projects for the summer season can be done in the spring. Here's some things you can tackle in the summer:
Oil door hinges including garage door opener and chain.

Clean your kitchen's exhaust fan filter.

Prune trees and shrubs.

Replace faucet and shower heads for the interior and exterior if necessary.

Check around the kitchen and bathrooms for any leaks.

Seal tile grout.

Protect your home against bugs and other pests.
Connect With Louie's ACE Hardware
Louie's Ace Hardware has all the tools you'll need to complete any home improvement project you want to tackle. Our highly knowledgeable staff are happy to help you find the best tool to use in your DIY project, and can help guide you in the right direction to a successful home improvement job. Connect with us today, or view our products list!
When it comes to taking on new DIY projects, timing is everything. It can make the difference between your project being a success or a total flop. For example, you wouldn't want to start renovating your landscaping if there was snow on the ground because it would cause too many problems. Like this scenario, you could be faced with many issues by choosing to tackle a DIY project at the wrong time. So, take a look below to see when the best time of the year is to start your next DIY job. 
Interior DIY Projects 
The time in which you take on interior projects isn't as dependent on weather inclemencies since your home shields you from the outdoors. However, weather can still affect interior projects in a variety of ways. For instance, tools or materials may cost less at a certain time of the year, and temperature often impacts the overall outcome of certain projects as well. So, take a look below at a few interior projects and suggestions for the best time to get them done.
Interior Painting: Fall/Early Winter
Interior painting can really be done at any time, but the fall and early winter are the best times to refresh your home's old indoor paint. Colder temperatures could help to cure your paint more quickly, but be weary of drastically low temperatures as they can affect the quality of the paint and prevent proper drying. Also, if you do decide you need some assistance, painting professionals are usually slower in the colder months and may even offer special deals during this time.
New Flooring: Spring    
When it comes to installing new flooring in your home, the spring is the best time to have it done. That's because hardwood floors don't react well to hot and humid climates. These types of environments can cause the wood finish to cure too quickly which results in the sheen drying improperly. Instead, try installing floors when it's a bit cooler out. 
Kitchen Updates: Summer
Kitchen updates such as painting, installing new cabinets, or redoing the countertops are best done in the summer months, but this may depend on your specific lifestyle. Because most people utilize their kitchens frequently during the holidays, winter isn't a good time to start a major kitchen renovation. However, summer may be a good time to do this because you're able to grill food outside and typically aren't limited to only being indoors. 
Exterior DIY Projects 
Exterior DIY projects need to be done during optimal weather conditions. If it's snowing, raining, or freezing outside, your project will likely be ruined by the poor weather. In order to prevent an avoidable disaster, try to plan exterior projects around your climate. So, take a look below to see when is the best time to take on various exterior projects. 
Deck: Early Winter 
In order to have your deck finished in time to use it for the spring season, you should start building it by early winter. Fortunately, if you do need some assistance, contractors are less busy during this time of the year and you may be able to save money on materials such as wood. Because it's generally pretty cold and wet during the winter months, most people don't enjoy being outside too much, so you also won't be disrupting any outdoor events you may have planned. And, believe it or not, the cold, cloudy weather you typically experience in early winter is perfect for helping pressure-treated wood dry and reduces the risk of warping or splitting.
Landscaping: Spring
You want to refresh your yard right before it gets too warm out. So, the best time to start a landscaping project where you plant shrubs, trees, plants, or grass, is in the spring. This will give your plants the best chance to grow and acclimate to their new environment. 
Exterior Painting: Summer
Exterior paint is best applied in the summer months. The type of paint used for the exterior of homes perform better when there is less temperature changes between night and day. This will allow for proper drying to occur and results in a better appearance. 
Get Prepared for Your DIY Project with Louie's Home Center
At Louie's Home Center, our expert staff members can easily help you find the right tools and hardware needed to complete your project. Here, we'll use our knowledge and experience to guide you in the right direction and get you through your project at each phase. Whether you're looking for the best hammer or the best power tool, our team is here to help. Connect with us today or shop our products to learn more!