Are your kitchen cabinets outdated or in need of sprucing up? Keeping up with all the new kitchen trends of the year can be difficult and expensive. That's why we've come up with these helpful tips for updating kitchen cabinets in your home. 
Revamping your kitchen cabinets with a few small changes and a little elbow grease will help keep costs low and will give you a new look tailored to fit you. It's easier than you think to get the kitchen you've always wanted. 

Remove Those Cabinet Doors
For closed off kitchens that feel a little cramped, you might want to consider removing your cabinet doors. Switching to an open shelving layout will really open up your entire kitchen making it seem bigger. This is also a very easy process and can be accomplished with your typical household tools.
Install Roll Out Shelving
If you're updating kitchen cabinets in your home, do yourself a big favor and add roll out shelving. This built in feature will help with the functionality of your kitchen. Roll out shelves make searching for tupperware, pots, and whatever else you may have stored away, much easier. And maneuvering through your kitchen will be a breeze with these added shelves from The Container Store.
Paint Goes A Long Way
Adding a layer of paint to your kitchen cabinets can change the entire look of your kitchen, and it's super simple to do. You can be as creative as you'd like with paint and it will really add some personality to your kitchen.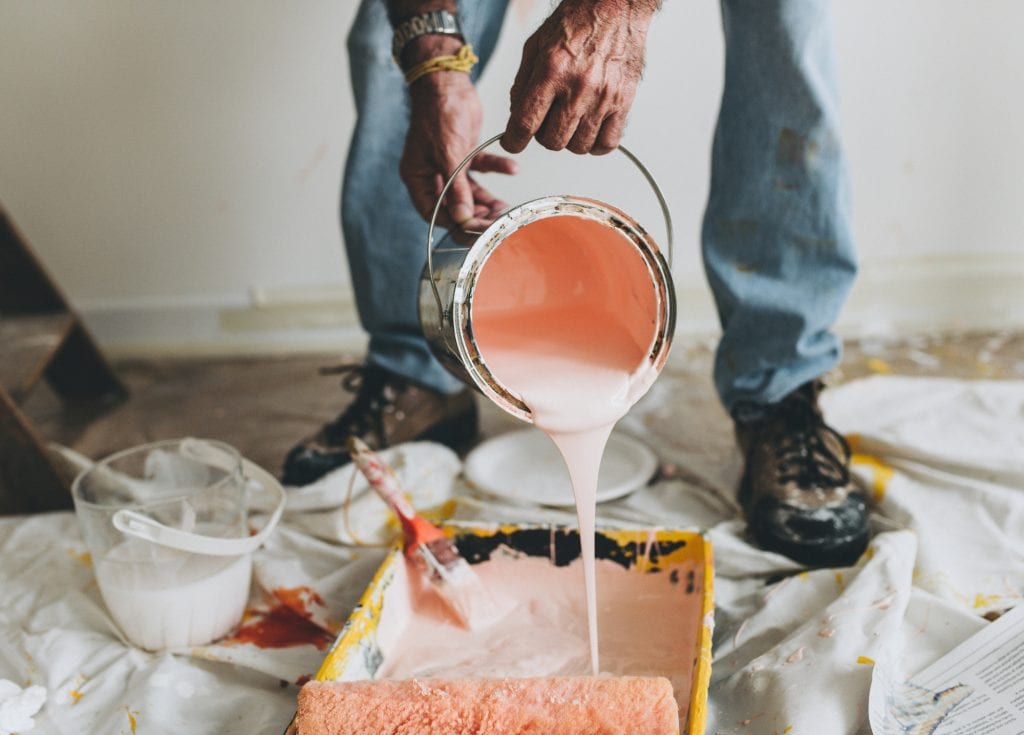 White will help make your kitchen feel bigger and less crowded. Bright colors can add a personal touch and make your kitchen feel more fun. And keep in mind that you don't have to stick with just one color either. Paint is a simple way to enhance your existing cabinets, without breaking the bank.
Keep in mind the type of paint you use for painting your cabinets. It's best to avoid matte finishes that will be difficult to clean up. We recommend using a semi-gloss, gloss, or satin finish because they're easy to clean and the enamel is more durable. 
Enhance Your Lighting
Adding task lighting or uplighting can really enhance the functionality of your kitchen. Sometimes the overhead light doesn't give you sufficient illumination, leaving you to work in dark conditions. Under-cabinet task lighting is practical and will not only help you focus on what's directly in front of you, but it can help light up the entire room. And you can even add a light dimmer to adjust the brightness based on your needs. 
Add Storage To The Backside Of Cabinets
When updating kitchen cabinets in your home, keep in mind that the backside of cabinet doors are full of potential. They're perfect for adding extra storage to your cabinets without all the clutter. And if you're limited on space, this is even more essential to have in your kitchen. 
The Container Store offers over-the-door lid holders and baskets to store pot lids and other items such as soap, sponges, or even bakeware. Along with the lid holders and baskets, you can add small shelves to the back for hiding spices. Utilizing the backside of your cabinets will alleviate your space saving problems with little effort to you.
Replace Door Fronts With Glass or Chicken Wire
If you're wanting to change up your cabinet doors but don't want to spend money buying new ones, try replacing the door fronts with something innovative and different. Adding glass or chicken wire to your cabinets will give you a new look without the cost of purchasing new cabinet doors. They also add personality to your kitchen and you can use colorful dishes to decorate with.  
Change Out Those Dated Knobs/Handles
Replacing old knobs and handles is a simple change, but it can really make your kitchen more appealing. Comfortable and easy to use handles or knobs will make your kitchen more practical for you. And, they can enhance the look of your cabinet doors. You can choose between round knobs, decorative knobs, long handles, shorter handles. The possibilities really are endless, and this is a very easy change to make. 
Add Adhesive Backing
Peel-and-stick adhesive wallpaper is cheap and easy to apply. Adding this to the back of your cabinets can really give a fun flair to your cabinets that is unique to your kitchen. And you can buy them in just about any color and any pattern you could imagine. 
Let The Experts At Louie's ACE Home Center Help
If you're in the process of updating kitchen cabinets in your home, stop by Louie's Ace Hardware for some help. Our friendly and knowledgeable staff can assist you with products or tools that may make your cabinet renovation much easier. If you have a question about our products, don't hesitate to give us a call at 775.423.7008! Connect with Louie's Ace Home Center today.