When it comes to taking on new DIY projects, timing is everything. It can make the difference between your project being a success or a total flop. For example, you wouldn't want to start renovating your landscaping if there was snow on the ground because it would cause too many problems. Like this scenario, you could be faced with many issues by choosing to tackle a DIY project at the wrong time. So, take a look below to see when the best time of the year is to start your next DIY job. 
Interior DIY Projects 
The time in which you take on interior projects isn't as dependent on weather inclemencies since your home shields you from the outdoors. However, weather can still affect interior projects in a variety of ways. For instance, tools or materials may cost less at a certain time of the year, and temperature often impacts the overall outcome of certain projects as well. So, take a look below at a few interior projects and suggestions for the best time to get them done.
Interior Painting: Fall/Early Winter
Interior painting can really be done at any time, but the fall and early winter are the best times to refresh your home's old indoor paint. Colder temperatures could help to cure your paint more quickly, but be weary of drastically low temperatures as they can affect the quality of the paint and prevent proper drying. Also, if you do decide you need some assistance, painting professionals are usually slower in the colder months and may even offer special deals during this time.
New Flooring: Spring    
When it comes to installing new flooring in your home, the spring is the best time to have it done. That's because hardwood floors don't react well to hot and humid climates. These types of environments can cause the wood finish to cure too quickly which results in the sheen drying improperly. Instead, try installing floors when it's a bit cooler out. 
Kitchen Updates: Summer
Kitchen updates such as painting, installing new cabinets, or redoing the countertops are best done in the summer months, but this may depend on your specific lifestyle. Because most people utilize their kitchens frequently during the holidays, winter isn't a good time to start a major kitchen renovation. However, summer may be a good time to do this because you're able to grill food outside and typically aren't limited to only being indoors. 
Exterior DIY Projects 
Exterior DIY projects need to be done during optimal weather conditions. If it's snowing, raining, or freezing outside, your project will likely be ruined by the poor weather. In order to prevent an avoidable disaster, try to plan exterior projects around your climate. So, take a look below to see when is the best time to take on various exterior projects. 
Deck: Early Winter 
In order to have your deck finished in time to use it for the spring season, you should start building it by early winter. Fortunately, if you do need some assistance, contractors are less busy during this time of the year and you may be able to save money on materials such as wood. Because it's generally pretty cold and wet during the winter months, most people don't enjoy being outside too much, so you also won't be disrupting any outdoor events you may have planned. And, believe it or not, the cold, cloudy weather you typically experience in early winter is perfect for helping pressure-treated wood dry and reduces the risk of warping or splitting.
Landscaping: Spring
You want to refresh your yard right before it gets too warm out. So, the best time to start a landscaping project where you plant shrubs, trees, plants, or grass, is in the spring. This will give your plants the best chance to grow and acclimate to their new environment. 
Exterior Painting: Summer
Exterior paint is best applied in the summer months. The type of paint used for the exterior of homes perform better when there is less temperature changes between night and day. This will allow for proper drying to occur and results in a better appearance. 
Get Prepared for Your DIY Project with Louie's Home Center
At Louie's Home Center, our expert staff members can easily help you find the right tools and hardware needed to complete your project. Here, we'll use our knowledge and experience to guide you in the right direction and get you through your project at each phase. Whether you're looking for the best hammer or the best power tool, our team is here to help. Connect with us today or shop our products to learn more! 
Easy Home Winterization Checklist
As the colder months are approaching, so are hefty energy bills if the proper preparations are not taken. Winterization is a key step in ensuring your home stays nice and cozy without spending a pretty penny.
We've compiled a handy checklist of easy ways to reduce your energy bill this winter, and ensure your home is winterized and ready to withstand dropping temperatures.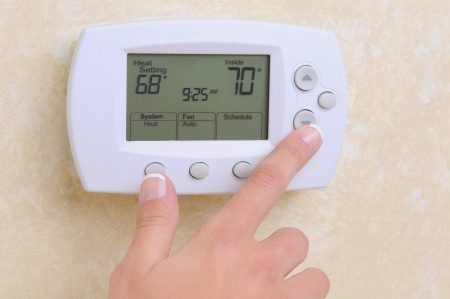 Weatherstripping and Draft Guards
Your doors and windows are major culprits of letting cold air into your home if they aren't properly sealed. Properly sealing these areas is extremely important, and the U.S. Department of Energy estimates that drafts in your home waste 5% to 30% of energy. Weatherstripping is great for drafty windows and can be easily applied and measured to fit any window. Draft guards can either be purchased or made yourself, and are adjustable depending on the width of your door, and its clearance from the ground.
Ceiling Fan
Believe it or not, ceiling fans are designed to go in two different rotations, one is for hotter weather, the other for the cold. Make sure your ceiling fan is going clockwise during the winter months. This ensures warmer air is being pushed downward towards the center of the room and the walls, pushing cold air upwards.
Caulk
Much like draft guards and weatherstripping, caulk helps you close up cracks that are letting a draft into your home. Use caulk to fill cracks or holes in non-movable components in your home like cracks in siding, or along windows that cannot be opened. Cracks can be often overlooked as a cause of drafts and cold temperatures within the home. However, when they are filled, can make a noticeable difference. Don't skip out on this winterization tip.
Air Filters
Replacing the filters in your home will help to make your central air and heating system work a little less. When filters are clogged, it requires a lot more energy to push out your desired heat levels. Another added benefit; you'll be breathing much healthier air with a brand new filter as well.
Window Insulation
Believe it or not, the glass on your windows themselves can be letting cold air through. If you're looking to save extra money on energy costs, or you've taken other winterization measures and they're still not helping, it may be worth it to consider window insulation. There are many kits containing film that you can easily place over the glass surface of your windows that are designed to help insulate. If you're not concerned with the appearance, bubble wrap also works well and provides extra insulation these film kits do not provide.
Outdoor Faucet Covers
A crucial step in ensuring your pipes don't freeze, and subsequently burst, outdoor faucet covers are one of the most important winterization steps. It's first important that you drain these faucets and detach any hoses or other attachments. Afterward, attach a faucet cover and you're set for the rest of the winter!
Stop by Louie's ACE today to pick up all the supplies you need to save on energy costs this winter. We have everything you need and more for home winterization.