With winter upon us, our homes are much colder and our electricity bills are skyrocketing. Turning up the heater is the first thing we do as soon as we feel the cold, but there are other alternatives. If you invest in the appropriate window coverings, you won't have to run the heater as often and will save a bunch of money. Although, purchasing blinds can require a large upfront payment, you are making an investment in your home and it will pay off.
Does It Really Work?
Of course it does! Windows are the greatest source of cold into and warmth out of your house. It has been said that windows account for 40% of heat loss in homes. You spend all this money on a heater, just to lose almost half of it to the outside. Installing blinds wouldn't allow this loss to occur. If you are able to trap a layer of air in between blinds and the window, the heat won't be able to escape and cold won't be able to enter.
How to Make the Most of Your Blinds
Making the most of the newest addition to your home is actually quite simple. The best way to control the temperature in your home without touching the thermostat is to time the opening and closing of your blinds. During the day, you are going to want to open the blinds to let in all the sunlight and warmth. However, when dusk falls, close the blinds to keep the natural heat inside and the cold out.
The Right Window Coverings For You
Because every home and customer is different, there is not a one-size-fits-all window covering. The perfect window covering for you depends on the style you are looking for, the size of your windows, and the cold protection you desire. Louie's Ace Hardware offers a wide variety of mini-blinds and basic rollers to fit any need. In addition, at Louie's, you are able to special order products from Hunter Douglas. Whatever your style, we have you covered!
For other home projects, we also offer ACE hardware rentals if needed. Contact us today!
The Reno Tahoe area has had one of the most extreme winters that we have had in years. With a flurry of winter storms, it has become even more important to winterize your car and prepare for emergencies. If you end up stuck in a storm, slid off the road, or in an accident, you may end up stranded in severe temperatures. In these situations, it's important to prepare beforehand with the proper emergency car kit.
At Louie's Ace Hardware, we carry all the essentials that you need to create an emergency kit for your car. Here's the items we recommend carrying for winter safety in case you get stuck in a blizzard.
Basic Car Safety Kit:
This is the basic kit that we recommend having in your car year-round. These essentials also serve in cold weather too. If you need to replenish your safety kit, it's a good idea to do this before heading out into any kind of severe weather.
Water

Good first aid kit

Basic car tool kit

Spare tire

Good pair of jumper cables
Cold Weather Bag for Winter Emergencies: 
In addition to your basics, we also recommend having a cold weather bag, specifically stocked with emergency items needed in a blizzard. Here's some items that you should keep in your vehicle this winter:
Water (take fresh water into car that isn't frozen during each trip)

Snacks

Battery charger for phone

Flashlights

Rescue tool (with seatbelt cutter to easily escape car)

Back-up phone

Ice scraper

Flairs

Maps

Portable shovel

Emergency blanket

Emergency candle

Matches

Tow cables

Repair manual (keep this in your car always)

Tarp/fire Starter kit (if you need to leave the car)

Duct tape (this can be used for many purposes)
Emergency Items for Your Glove Box:
In the case of an emergency, you may not be able to access all areas of your car. Keeping your glove box stocked with safety items can give you quicker access to a few basics.
Contact book with phone numbers

Pen

Poncho

Aspirin

Mini first aid kid

Hand warmers

Plastic bags/wipes (for sanitation)
Winter Clothing for Your Car: 
In case you must exit your car or walk to get help, it's important to have proper winter clothing and layers that can keep you warm in freezing temperatures.
Warm sweater

Jacket

Hats

Gloves

Layers
We hope this check-list helps you prepare for winter storms. Stop by Louie's for all your winterizing needs. We'd love to help you put together your next emergency kit and choose the right items for your vehicle.
After the summer fun is done and the last camping day of fall has passed, it's time to start thinking about winterizing your RV. Winterizing your RV may seem like a daunting task. But at Louie's Ace Home Center, we have everything you need to get the job done. If you are staying in your RV, you are going to want to keep your water lines functional. Be sure to wrap your lines with foil and open your faucets slightly if you are planning to stay in the RV. If you are storing it, follow these simple steps to winterize your RV.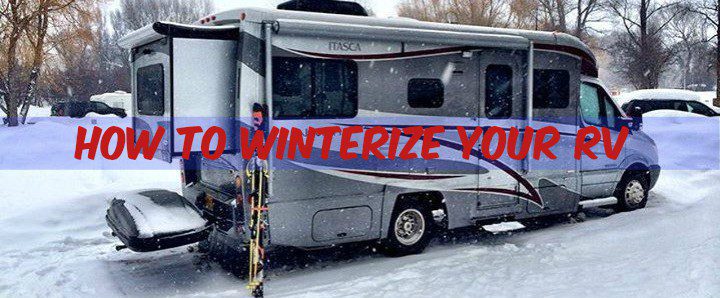 Mind the water lines: You will need to drain and dry your water lines before storage. How do you do this? First, open the "petcock" and allow everything to drain except the water heater. What's the petcock? The petcock is a small valve used for draining. It's usually located by the water tank.
Drain the holding tanks and open the faucets: Flush both tanks simultaneously. Some RVs come with a built-in tank system. If yours doesn't, clean your tanks with a wand. Take the refuse to a dump station. Toilet, shower, sinks, open them all to winterize your RV. Flush the toilet until you are sure all the water has emptied out.
Blow out the lines and seal them up: Purchase a compressed air adapter or blowout plug. Attach it to the water intake fitting and use a standard air compressor (like the ones you use to inflate the tires on your car) to blow out your water lines. This gets rid of excess water and prevents the dilution of your anti-freeze. Do this at a maximum of 50 psi. Replace your caps, close the faucets, and close the petcock. As a reminder, the petcock is the valve you opened to drain your water in the first place.
Detach the compressor and add anti-freeze to your lines: Make sure to detach the air compressor. This is an important step! You can add pink RV antifreeze from the inside with a hand pump from outside. You can also choose whether or not you want to use a bypass (note: bypasses require more anti-freeze). Do not drain the water heater before you have added your anti-freeze. You will use 2 to 3 gallons of anti-freeze. If you can't bypass your water heater, you will need 6 to 10 gallons. After the anti-freeze is in, turn on your fresh water pump and let it run. This video demonstrates this process thoroughly.
Turn on your faucets: Turn on the faucets and test the systems until they run pink. That's how you know the anti-freeze has filled up your lines.
Don't forget about other appliances or to re-connect your lines: Toilets, washing machines, icemakers, and showers need anti-freeze too. Make sure they have anti-freeze to winterize an RV. You will drain your water heater last. Take it out of the anti-freeze jug and reconnect it to the fresh water tank.
To fully winterize your RV, be sure to remove any perishables, laundry, trash, and valuable items. Fix anything that is broken as it will make it easier to use the RV when its time. Cover all your vents and holes so pests don't see your winterized RV as a place to get warm. Cover your RV with an RV cover, and don't forget your tires, too. Some people lift their RVs to take the pressure off the tires as well.
We hope these tips help winterize your RV. Visit Louie's Ace Home Center for all of your RV supplies. Have a great winter!